The Connection Between Suicide and Binge Drinking Among College Students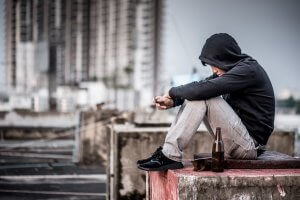 Binge drinking can lead to suicide in any age group, but college-aged adults are especially susceptible to this risk. Here are the key factors influencing binge drinking and the development of suicidal thoughts in college students, and the warning signs to watch out for.
Alcohol Consumption in College-Aged Adults
College is a time of transition, a period during which many young adults embark on the journey towards adulthood. But with the added responsibilities of classes and career planning also comes a new sense of freedom associated with living on one's own. College students are free to try new things, and for many this includes the consumption of alcohol. Unfortunately, this can often lead to alcohol dependency and binge drinking.
What is binge drinking?
Binge drinking is a dangerous pattern of drinking that results in an excessive consumption of alcohol. The National Institute of Alcohol Abuse and Alcoholism estimates that this typically occurs when men consume 5 or more drinks or women consume 4 or more drinks in about 2 hours.¹ (National Institute of Alcohol Abuse and Alcoholism).
Studies have shown that binge drinking in the U.S. is most prevalent among young adults (18–34).² So how common is binge drinking on college campuses?
The rate of binge-drinking among college students is around 40%.³
The majority of underage drinkers (under 21) report binge drinking when consuming alcohol.4-5
College students are more likely to binge drink compared to their non-college peers.6 (18-24)
There are many factors that influence the high rate of binge drinking among college students. These include increased social pressures to drink, the presence of fraternities and sororities, stress related to classes and grades, unstructured time, dorm living, relationship issues, and the widespread availability of alcohol. Regardless of the reasons why college students binge drink, the truth of the matter is that binge drinking poses many serious risks and consequences. These include:
Academic problems
Car crashes and other alcohol-related unintentional injuries
Issues with the police (including drunk-driving arrests)
Sexual assault or date rape
Unprotected sex and other risky sexual behaviors
Liver damage and other health problems
Suicide attempts
The Link between Alcohol and Suicide
Alcohol and suicide are tragically related. People experiencing suicidal thoughts often turn to alcohol for comfort, and alcohol has the unfortunate effect of increasing suicidal attempts. According to data from a recent National Violent Death Reporting System report from the Centers for Disease Control and Prevention, alcohol has been a factor in nearly one-third of all suicides.7 Alcohol is a double-edged sword when it comes to its influence on suicidal tendencies; it decreases one's inhibition and self-esteem, while at the same time enhancing negative self-image, impulsivity, social isolation, and depression.
Depression from alcohol only worsens when someone binge drinks, and consequently many suicide attempts occur during binge drinking. Because binge drinking is so prevalent among college students, the risk of suicide is a major concern. Statistics show that this concern is real, as suicide is the second leading cause of death among college students with over 1,100 deaths in the U.S. per year.8Studies confirm that alcohol use is a major risk factor consistently implicated in suicidal ideation, suicide attempts, and completed suicides among college students.9
Key Factors and Warning Signs of Suicide
Suicidal thoughts may develop in college-aged adults for several reasons. Many of the same factors that influence binge drinking also increase the risk of suicide. Factors for suicide in college students include mental health issues, relationship issues, loneliness, homesickness and culture shock, and academic and work-related stress.10 If you are concerned about someone, there are common warning signs to keep in mind. Some signs of suicide to watch for include:
Withdrawal from family and friends
Reckless behavior
Talking about dying and/or suicide
Dramatic mood swings and irritability
Increased substance abuse (alcohol and drugs)
Feelings of hopelessness
Giving away possessions and tying up loose ends
Drastic changes in sleeping habits
If you are having suicidal thoughts seek immediate assistance by contacting mental health services at your school or calling the National Suicide Prevention Lifeline (1-800-273-TALK), which will connect you to the nearest suicide prevention and mental health service provider. It is then imperative to address any struggles with binge drinking and alcohol dependence by seeking treatment at a substance abuse rehab center.
Sources:
National Institute of Alcohol Abuse and Alcoholism. (2004). NIAAA council approves definition of binge drinking. NIAAA Newsletter, 3, 3.
Kanny, D., Naimi, T.S., Liu, Y., Lu, H., & Brewer, R.D. (2018). Annual Total Binge Drinks Consumed by U.S. Adults, 2015. American Journal of Preventive Medicine, 54(4), 486–496.
Krieger, H., Young, C.M., Anthenien, A.M., & Neighbors, C. (2018). The Epidemiology of Binge Drinking Among College-Age Individuals in the United States. Alcohol Research, 39(1), 23-30.
Esser, M.B., Clayton, H., Demissie, Z., Kanny, D., & Brewer, R.D. (2017). Current and Binge Drinking among High School Students – United States, 1991–2015. Morbidity and Mortality Weekly Report, 66(18), 474-478
U.S. Department of Health and Human Services, Substance Abuse and Mental Health Services Administration. (2017). Report to Congress on the Prevention and Reduction of Underage Drinking.
Carter, A.C., Obremski Brandon, K., & Goldman, M.S. (2010). The College and Noncollege Experience: A Review of the Factors That Influence Drinking Behavior in Young Adulthood. Journal of Studies on Alcohol and Drugs, 71(5), 742–750.
Karch, D.L., Dahleberg, L.L., & Patel, N. (2010). Surveillance for Violent Deaths-National Violent Death Reporting System, 16 States, 2007. Morbidity and Mortality Weekly Report Surveillance Summaries, 59(4), 1-50.
Suicide Prevention Resource Center (2004). Promoting Mental Health and Preventing Suicide in College and University Settings.
Lamis, D.A., & Bagge, C.L. (2011). Understanding and preventing college student suicide: Alcohol involvement and suicidality in college students. Springfield, IL: Charles C. Thomas Publishers.
Mortier, P., Demyttenaere, K., Auerbach, R., Cuijpers, P., Green, J., Kiekens, G., … & Bruffaerts, R. (2017). First onset of suicidal thoughts and behaviors in college. Journal of Affective Disorders, 207, 291-299