4 Tips for Mothers of Adult Children with Addictions
Parents have some major responsibilities, including raising their children to be healthy, productive, positive contributors to society. Mothers, in particular, tend to take on the nurturing role when it comes to helping their children develop these characteristics.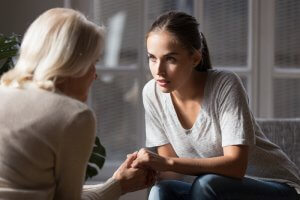 Most mothers do what they can to protect their children from any harm. Unfortunately, addiction isn't necessarily something that mothers—or any parent for that matter—can fend off if it happens to take hold of their child.
Discovering that your child struggles with a substance use disorder (SUD) or an alcohol use disorder (AUD)—regardless of their age—can be heartbreaking, and talking to them about their addiction can be challenging.
In honor of Mother's Day, we here at American Addiction Centers (AAC) would like to offer some tips to help you help yourself and your child, too.
1. Don't Blame Yourself
Blaming is easy to do, but it's not healthy. You cannot change the past. However, you can recognize that your child has a problem and do what you can to help them get the help they need to begin recovery from addiction. Offer to help them find support services, but know that you cannot help someone who does not want to end the cycle of addiction. That can be a hard pill to swallow, but treatment is most effective when the individual in treatment is motivated to be there and make the lifelong emotional and behavioral changes necessary for lasting recovery.
2. Support and Encourage Your Child to Seek Treatment
Sit down with your child when they are sober and not dealing with the aftereffects of their substance use. Let them know that you're concerned about their substance use and their health and well-being. Enlighten them on how their substance misuse affects the entire family, but don't attack their behavior or put them on the defensive.
3. Don't Enable
Driving your child to and from work, bailing them out of jail, or paying for the fees associated with legal issues associated with their addiction enables them to continue their substance misuse. While it might be difficult as a parent not to help, it's better to force your child to face the repercussions of their actions on their own—taking public transportation, doing their time, and paying their own way—and hold them accountable for their behaviors.
4. Love Yourself 
Having a child who struggles with addiction can take a toll on your physical and mental health as their parent. It's important to take care of yourself. Talk to a mental healthcare professional, join a mutual-help group filled with people who understand your situation, such as Al-Anon or Nar-Anon, exercise, meditate, or participate in a favorite hobby. You will be worthless to your child—and the rest of your family, too—if you don't make your own physical and mental well-being a priority.
If you have a child struggling with addiction, reach out to American Addiction Centers (AAC) at . You can speak to one of our compassionate and knowledgeable admissions navigators, many of whom are in recovery themselves. They can answer your questions, explain the treatment options, verify your child's insurance, and get them started on their journey to recovery.