Staff Spotlight: Handling Every Call from a Veteran with Utmost Care
It's not easy for a veteran to place a call to American Addiction Centers (AAC) to ask for help. "When someone goes through military boot camp and combat training, that person learns to stifle emotions. It's an unwritten veil of silence. I understand that firsthand," says Jay Russell. That's why Jay, who works as an Admissions Navigator/Veteran's Liaison, handles every call he receives with unwavering care.
From Veteran to Veteran Call Center Employee
Born at Ft. Hood and a third generation "military brat," Jay has military experience through his family as well as on his own. When he enrolled for a six-year stint in the Air Force, he well expected to fulfill that term. However, PTSD upended that plan after four years. After an honorable medical discharge, he returned to his hometown in Tennessee and worked mainly in IT. The jobs were fine, but they weren't fulfilling. He realized he wanted to help his "brothers and sisters in the military," as he puts it. Then, lo and behold, a headhunter alerted him to an opportunity in the call center at AAC only three blocks from where he was working.
He jumped at it, even though it meant he had to work overnight and on weekends initially. He didn't care and, in fact, requested overtime. Jay calls the job at the call center his "perfect storm." And as he's approaching his five-year anniversary mark, he says, "I felt blessed to get a paycheck for what I love to do."
What does he do to help veterans?
Jay speaks to 50 to 60 callers each day on the job. Not all have a military background, but many do. When that occurs, he quickly offers a "thank you for your service." He lets them know they are speaking to someone who's been there, done that. He also wants to assure them he's grateful for their call. "I'm on your side and going to remove as many barriers as possible to get you help" – that's the main message at the outset of their discussion.
He then engages vets in finding out about their military experience, using shared lingo. He describes the process as "two buddies chatting." In the process, he endeavors to discern if they have been combat deployed to sense whether there may be a PTSD component that requires treatment. There often is. Again, he should know.
Next, he puts on his "Admissions Navigator" cap to guide callers through the process. That entails directing veterans to go to their local VA to obtain the proper referral and payment for treatment at AAC. Often, he tells them to call him directly as they wait for their appointment in the VA facility. "I want to make sure that vets know they're not alone – I'm here to help through each step." That includes speaking directly with touchpoints at the VA, pending permission from the vets.
"I can spend up to 20 hours on the phone with doctors, nurses, social workers, and other referral sources at a VA," he explains. Jay's goal is twofold: (1) build a relationship with veterans who need help and (2) do the same with the VA centers that authorize it. "We've established such good ties with resources in the VA in the system, that some call us directly to enroll clients." New Orleans is an example of a VA facility that often makes the first contact to AAC on behalf of a vet seeking treatment.
Treatment Options for Addicted Veterans
Within the AAC network, two sites specialize in working with vets: Desert Hope and Recovery First. Desert Hope is located in Nevada whereas Recovery First is in Florida. Both have robust regimens tailored to the needs of those with military experience. VA's and veterans choose which one to attend.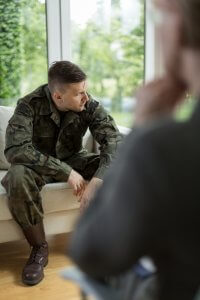 Jay often speaks with referral sources, especially doctors, about the course of treatment. "I want them to know that AAC is a mental health program first and foremost that focuses on drug abuse." Treatment entails testing, including genetic testing, to get to the root of a client's addiction. It also often involves the use of nutraceuticals and pharmacogenomics. The point here is that AAC treats the whole person, including family issues, grief, life skills, and childhood trauma. The team figures out what works for each client and then applies it to their treatment plan. He also points out art therapy and yoga, which proves effective for PTSD.
"My short-term goal is to ensure that vets have a better day because of their call with me," Jay notes. His inspirational goal is to do his part to end the horrible disease of substance addiction.  In this way, he wants to see himself out of job at some point. "Imagine the joy if my job no longer needs to exist," he muses. In the interim, he helps vets who call figure out the best way to get help.
_____
Read More from Sherry M. Adler:
_____
Photos Courtesy of Shutterstock.