What is Vaping and How Does It Affect You?
E-cigarettes, or vaping as it's widely known for, has appeared in the news a lot within the past year. And with good reason. With the sudden deaths among teens, young adults, and others using the cigarette alternative, it has definitely attracted a lot of attention.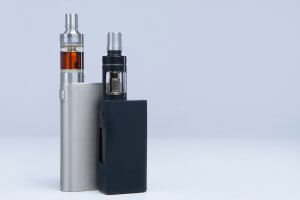 So, what is vaping and why is it such a concern?
What is vaping?
The use of an e-cigarette is often referred to as "vaping." An electronic cigarette, or e-cigarette, comes in a variety of sizes and shapes, has a liquid substance to heat, a place to hold the liquid, and a battery. Some e-cigarettes look like pipes, cigars, or regular cigarettes, while others may look like USB sticks and pens.
When heating the liquid, which usually contains nicotine, flavorings, and other chemicals, e-cigarettes produce an aerosol. The aerosol is inhaled into the lungs by the user and second-hand aerosol can be breathed in by those passing by once the user exhales.
What is Juul?
Juul is a brand name and an American e-cigarette company. They produce the Juul e-cigarettes made specifically for adults.
Health Risks and Deaths
E-cigarettes are not a healthy alternative to traditional cigarettes like many have come to believe. E-cigarettes have not been approved by the United States Federal Drug Administration (FDA) as a method to help people to quit smoking either. Scientists are still learning about its long-term effects, as vaping is relatively new. However there are some facts that are known.
E-cigarettes risks:
Contain cancer-causing chemicals.
Nicotine is very addictive, which is present in the liquid.
Nicotine is dangerous for pregnant women and developing fetuses.
Nicotine can harm adolescent brain development.
Acute nicotine exposure is poisonous to both adults and children via breathing, swallowing, or absorbing e-cigarette liquid through the eyes or skin.
Defective e-cigarette batteries have caused explosions and fires (mostly at times when the batteries are being charged).
As of January 2020, the Centers for Disease Control and Prevention state that 82% of those hospitalized due to EVALI (e-cigarette or vaping, product-use associated lung injury) reported THC-containing product use. The additive of Vitamin E acetate within the THC is connected to the EVALI outbreak. EVALI reports peaked in the middle of September 2019, but the number of hospitalized patients has declined. As of October 2019, 34 deaths connected with EVALI had been reported to the CDC.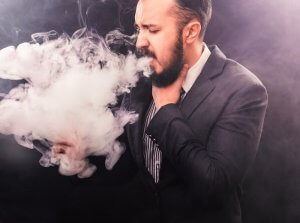 Regulations and Bans
The FDA's Center for Tobacco Products gained regulatory authority over all electronic nicotine delivery systems (ENDS) as of August 8, 2016. This includes e-hookahs, e-liquids, e-cigars, vapes, e-cigarettes, and e-pipes. It became illegal to sell e-cigarettes and other ENDS to minors (those under the age of 18). Retailers were then responsible for checking the identifications of customers purchasing tobacco products under the age of 27 to ensure that the law is upheld. The Tobacco Control Act also prohibited the sale of tobacco products in vending machines where minors had access; it also banned dispensing free product samples of tobacco. Policies and procedures are continuously evolving with these new tobacco products.
Final Thoughts
Vaping is catching on in popularity, despite the health risks associated with the habit. Although it may come in different flavors, have fewer chemicals than regular cigarettes, and appear to be innovative, it still contains the addictive chemical known as nicotine and contains cancer-causing chemicals. If you are battling with an addiction to e-cigarettes, there is help available. Don't hesitate to ask.