American Addiction Centers – San Diego Office
American Addiction Centers is the leading provider for addiction treatment nationwide, specializing in evidence-based treatment and mental health care.
Navigate:
What is American Addiction Centers?
American Addiction Centers (AAC), founded in 2007, is the largest network of addiction rehab facilities in the United States. We're committed to helping people like you heal from substance use disorders and co-occurring mental conditions through evidence-based therapies and integrative treatment approaches. With locations in over eight states, AAC guarantees that you will receive accessible addiction treatment, personalized support, and the tools necessary to prepare you for sustainable recovery. Our marketing office, which does not take patients, is located in San Diego.
Our Drug and Alcohol Rehab Programs
Each one of American Addiction Centers' facilities is unique, offering varying levels of care, its own combination of services, and population-specific programs to meet the diverse needs of our patients.
All AAC facilities provide some combination of the following levels of care:
Medically Managed Detox, to ensure your withdrawal process is as safe and comfortable as possible.
Inpatient (Overnight) Rehab, to address the psychosocial and behavioral aspects of your addiction.
Varying Levels of Outpatient (Daytime or Nighttime) Rehab, for ongoing and flexible support while you're working, going to school, or living at home.
To ensure personalized treatment, AAC's rehab facilities also offer the following specialty programs:
Co-occurring disorder treatment, for those struggling with addiction and co-existing mental illnesses, such as depression, anxiety, PTSD, and more.
AAC's Solute to Recovery program, to thoroughly address the unique needs and struggles of veterans and those currently serving in the United States armed forces.
Alumni program, to provide continuing community support and accountability for those who previously completed our treatment programs.
Aftercare planning, to help patients prevent relapse and cope with triggers, stress, and cravings that they may face after rehab. Aftercare planning assists clients in securing sustainable, recovery-friendly living environments after rehab, arranging outside recovery resources (such as therapists and peer-support groups), and more.
 We're Committed to Your Recovery
At AAC, we're invested in your long-term recovery from addiction. Because addressing addiction is incomplete without also focusing on the potential of relapse, AAC will provide an
additional 30 days of complimentary care to you if you relapse after 90 consecutive days of treatment at one of our facilities.
Sometimes, relapse is a part of healing from addiction – but it doesn't mean you failed, and it shouldn't stop you from trying again. If relapse is a part of your story, AAC's 90-day promise will allow you to quickly resume your recovery after any slips. (Some restrictions may apply).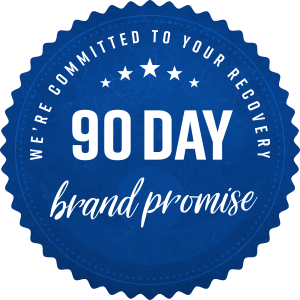 Get Covered for Addiction Treatment
If you have health insurance, your treatment may be covered at an AAC rehab facility. To save you time, our admissions navigators can contact your insurance company to inquire on your behavioral health benefits before you commit to rehabilitation at any of our facilities. Simply enter your information below for us to begin, and we'll reach out to you with information on your benefits.
Other ways to contact us about treatment include:
Calling as at There, our admissions advisors can answer any questions you might have about treatment or verify your insurance coverage over the phone for you or a loved one to find treatment.
Sign Up for Text Support where you can get 24/7 text support and get more resources about addiction treatment.
Our Treatment Centers
Take Our Substance Abuse Self-Assessment
Take our free, 5-minute substance abuse self-assessment below. The test is free, confidential, and no personal information is needed to receive the result.
More Questions?
Here are a few of our commonly asked questions. For more information visit our FAQ page or give us a call.