AAC Chief Medical Officer Featured in Daily Mail
November 9, 2018
Depression and binge-drinking is woefully common among veterans, survey data show.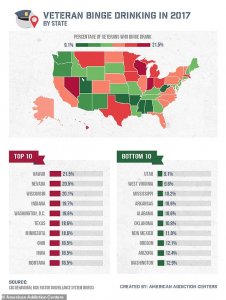 The tormenting mental health condition affects one in four unemployed veterans and one in three who do work.
The rate is strikingly high among those with a disability: nearly 70 percent of them are depressed.
What's more, 25 percent of veterans with depression say they binge-drink.
Dr Lawrence Weinstein, chief medical officer of the American Addiction Centers, which produced the survey, said the figures show clear areas for policymakers, physicians and families to work on as the suicide rate among vets continues its decade-long rise.
Read more on the Daily Mail.