AAC Offers Beds to Veterans Needing Treatment
November 10, 2017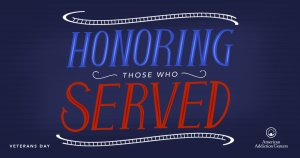 In honor of Veteran's Day, American Addiction Centers (AAC) is providing 30 days of free inpatient care to five members of the armed forces who are struggling with drug and/or alcohol addiction.
"No one is immune from addiction," said American Addiction Centers CEO Michael Cartwright. "This disease does not discriminate and even our nation's heroes can fall victim."
Alcohol and substance use disorder are prevalent among veterans and active-duty military, and PTSD is often an underlying component. According to the National Center for PTSD, about two out of 10 veterans who suffer from PTSD go on to develop substance use disorder.
"Someone suffering from what they've done serving this country, and were willing to die for it, does not deserve to be on the streets drinking out of a bag," said Jay Russell, a veteran and treatment coordinator for American Addiction Centers.
Based on the unique experiences of veterans and other first responders, AAC has developed a research-based program dedicated to addressing their particular needs. The First Responder Program is offered at several AAC facilities.
"We have a first responder hotline unlike anyone else in the industry, said Mike Blackburn, Senior VP of Business Development. "Due to the nature of their line of work, this population requires specialized care dealing with trauma, PTSD, etc. We have special phone numbers that are answered by clinically trained firefighters, police, veterans and other first responders who have a deep understanding of what the person on the line is going through."
According to Russell, the offer of treatment is especially needed around the holiday.
"Every Veteran's Day, we get a few urgent calls, and I make sure that I'm there helping to ensure that they get the help they need," said Russell. "When we say, 'no man left behind,' we mean it, and that rule applies even if the uniform is off."
American Addiction Centers also launched an employee campaign in recognition of Veteran's Day to raise funds to support those veterans impacted by the recent hurricanes in the Caribbean to  providing housing and other basic needs. AAC currently partners with the VA Caribbean Healthcare System to place Puerto Rico veterans into treatment at its facility Recovery First in Florida.
If you or a loved one is struggling with drug or alcohol addiction, call (888) 902-VETS.
Previous News Article
State Senator & Solutions CEO Speak on Addiction in Regards to Family Involvement & Incarceration
Next News Article
CBS Interviews Solutions Therapist (USAF Vet) About Helping Vets Who Face Addiction