American Addiction Centers' Donation to MusiCares Provides Free Treatment to Musicians
April 11, 2018
Headquartered in the country music capital, American Addiction Centers (AAC) announced today its donation of 30 free days of inpatient treatment to 12 musicians who seek assistance through MusiCares® in 2018. MusiCares, an affiliated charity of the Recording Academy™, provides resources for struggling musicians, including those battling drug and/or alcohol addiction.
"Music is an integral part of the culture of Nashville and it seemed only fitting that we should reach out to those in our own backyard who may be struggling with the disease of addiction," said Michael Cartwright, CEO of American Addiction Centers. "As one of the nation's leading treatment providers, we have seen firsthand how treatment can transform lives."
Earlier this year, AAC released the results of its patient outcome studies. The studies showed that not only does treatment work to reduce substance use, but it also has significant benefits across many important areas of life, including family dynamics and mental health.
AAC is also supporting the 2018 MusiCares Concert for Recovery scheduled on May 10, 2018. The concert will also help raise funds for the nonprofit to give even more musicians access to treatment.
About American Addiction Centers
American Addiction Centers (NYSE: AAC) is a leading provider of inpatient and outpatient substance abuse treatment services. We treat clients who are struggling with drug addiction, alcohol addiction, and co-occurring mental/behavioral health issues. We currently operate substance abuse treatment facilities located throughout the United States. These facilities are focused on delivering effective clinical care and treatment solutions. For more information, please find us at AmericanAddictionCenters.org or follow us on Twitter @AAC_Tweet.
About MusiCares
A friend and ally of the music community, MusiCares was established by the Recording Academy to safeguard the health and well-being of all music people. A four-star charity and safety net in times of need, MusiCares offers confidential preventative, recovery, and emergency programs to address financial, medical, and personal health issues. Through the generosity of our donors and volunteer professionals, our dedicated team works across the country to ensure the music community has the resources and support it needs.
For more information, visit www.musicares.org, "like" MusiCares on Facebook, and follow @MusiCares on Twitter and Instagram.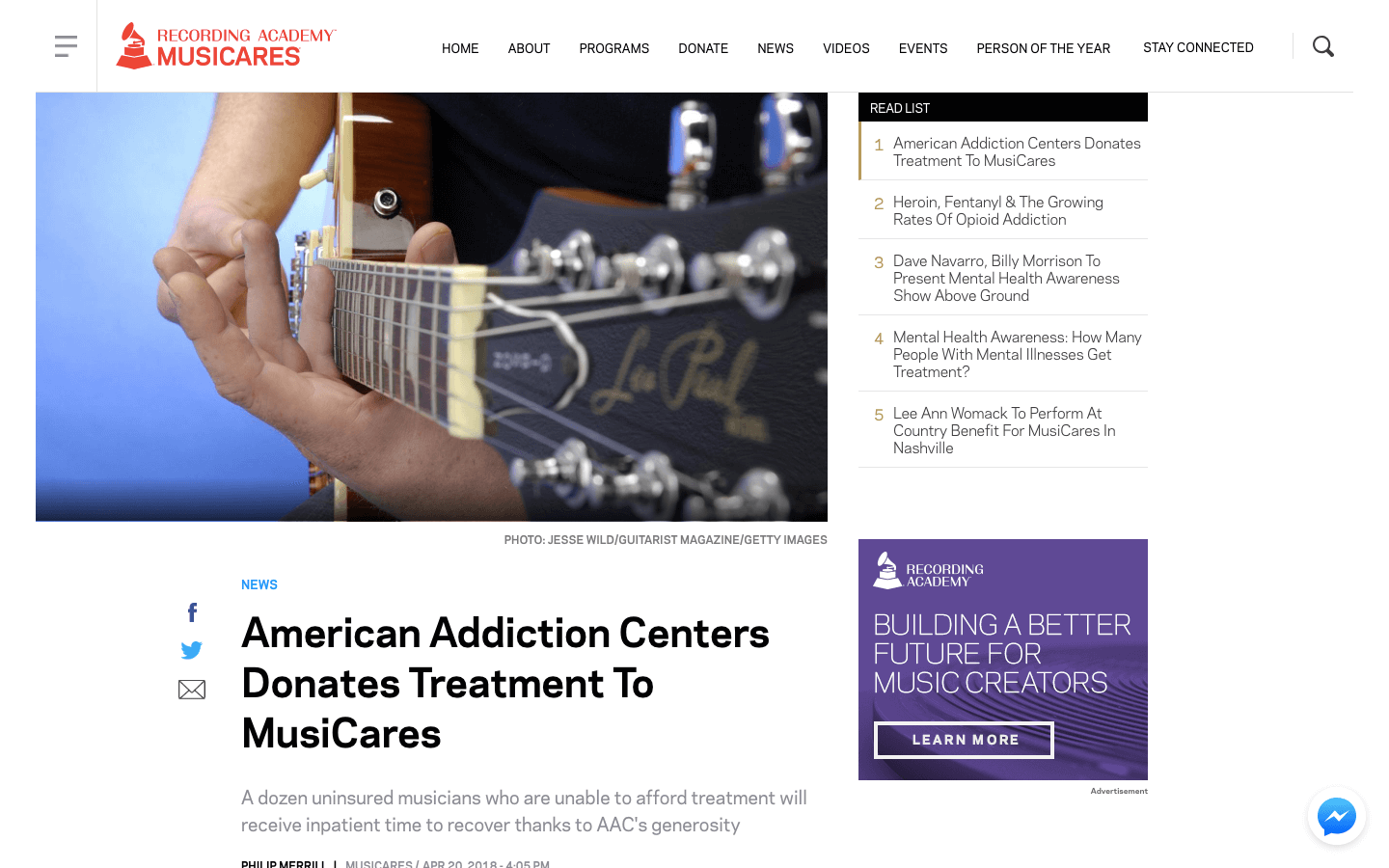 Next News Article
MTSU Students Get First Ever Opportunity to Attend ACMs Thanks to AAC