River Oaks Treatment Center Addiction Fellow Describes His Experience in Addiction and Recovery
September 9, 2021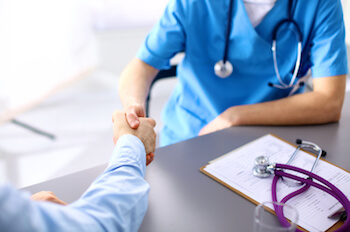 Dr. Forrest Arthur, one of the addiction medicine fellows receiving training at River Oaks Treatment Center, was featured in MedPage Today after penning an op-ed on health professionals' susceptibility to substance use and the choices to make when help is needed.
Prior to Dr. Arthur's time as a River Oaks fellow, he was the head of surgery at a major hospital, and had his own surgery practice, but pain from an old injury coupled with immense stress led him to self-medicate with opioids. Addiction is an indiscriminate disease, and no one, even successful surgeons, are spared.
In the piece, Dr. Arthur details the shame he felt fearing that his secret would be discovered and the deep concern of the inevitable disciplinary actions that could have resulted in the lost of his license. In the end, he found out that there was institutional support already in place to help healthcare professionals receive treatment but maintain their licensure.
To read Dr. Arthur's suggestions to healthcare professionals who may be struggling, but are far too hesitant to come forward, visit MedPage Today.
Next News Article
Greenhouse Treatment Center Therapist Discusses Generational Trauma in People of Color