Treatment Consultant Featured on CBS Speaking About His Recovery
January 2, 2018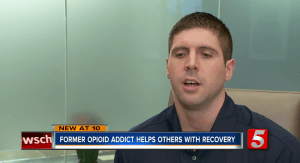 Treatment consultant Jeremiah Jackson was featured on CBS Nashville speaking about his opioid addiction and his life in recovery.
"My close group of friends, people are starting to get arrested and I didn't want to go down that way. I can see that my family was starting to back off of me and I needed my family support. I didn't want to die," he said.
Jeremiah says that the best way to prevent the addiction is to learn about it. There is help out there.
To view the entire interview, visit https://www.newschannel5.com/news/opioid-deaths-surpass-breast-cancer-deaths