Top Reasons to Choose Desert Hope Treatment Center in Las Vegas, Nevada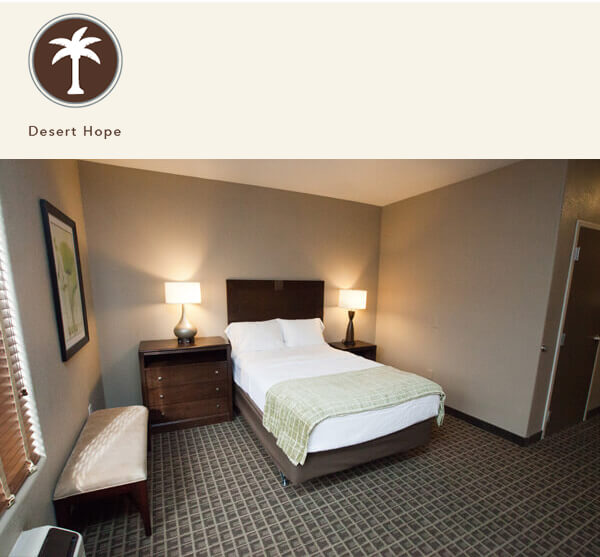 We offer everything you could want in an addiction treatment program, and more!

At Desert Hope, we don't force you into a cookie-cutter treatment plan. We meet with you on day one to make a thorough assessment of your needs and goals and create a plan for clinical programming tailored to you as an individual. We engage you in the process, ask what you're looking to get out of treatment, and explain to you what you should expect during the process of your care. Along the way, we will make any adjustments necessary to make sure you are receiving treatment that works for you. We'll also check in with you to see how things are going and set goals for treatment moving forward.

We offer the full continuum of care. This includes evidence based therapies, medically supervised treatment, and an elective-style schedule.

Regardless of the level of care you need, from medically monitored detoxification, to live-in inpatient and residential treatment, to less intensive outpatient, IOP, and sober living residences, Desert Hope is able to create a personalized treatment plan to meet your needs.
Because we know not everyone needs the same type of treatment, we offer specialty tracks to address the needs of various audiences. Patients can partake in our Veterans and First Responders program, Gender-specific treatment, LGBTQ+ programs, and more.

Our high standards in providing quality care have afforded us various licenses and accreditations.

Desert Hope is accredited by the Joint Commission which provides behavioral health treatment facilities with standards and requirements for quality treatment.
We are a member of the National Association for Behavioral Healthcare.
Our program is certified by the Nevada Division of Public and Behavioral Health.


Treatment is confidential.

Your patient information is protected by HIPAA and no one outside of your treatment team can access your information without your written consent. Learn more about your rights and confidentiality here.

We have exceptional and qualified staff invested in your recovery.

All therapists are master's-level clinicians. Staff specialties include substance use, mental health, social work, marriage and family therapy, music, or art.
Our medical detoxification program is staffed with experienced, compassionate doctors and nurses who provide 24/7 monitoring to keep you safe during withdrawal.

We integrate family into the treatment journey.

We involve family in the treatment process so that you are better able to continue your recovery post-treatment.
This may include visits, as well as family education and therapy.

We set you up for success.

When you complete treatment with Desert Hope, you don't lose the support that you gained here. Our alumni program allows you to retain the sober network you had in treatment. The program has a large social media presence (close to 500 members on our Desert Hope alumni Facebook page), weekly alumni meetings, outreach to alumni, and quarterly alumni events.
If you complete 90 consecutive days in treatment with us, we guarantee you'll stay clean and sober, or you can return for a complimentary 30 days of treatment.

Desert Hope is just a short 10 minute drive from the Las Vegas Strip.

Desert Hope is conveniently located 4 miles east of the Las Vegas Strip or 3 miles north of McCarran International Airport.

Our success is in the numbers.

Desert Hope Treatment Center is only as successful as we are—63% of our patients report being sober at 12 months post-treatment—without the active participation of our patients and alumni. Every single person who walks through our doors makes our program what it is—we learn from you just as you learn from us. Our patients all bring something to our program; in some cases, alumni in recovery even come to work for us! You and patients just like you help to create a growing recovery community.

Did you know your insurance provider may be able to cover all or part of the cost of rehab?

The cost of rehab may deter people from finding treatment, but many insurance providers may be able to help foot the bill. Find out if your insurance provider may be able to help you cover the cost below.
Get in contact with us today!

If you believe you or someone you love may be struggling with addiction, let us hear your story and help you determine a path to treatment. There are a variety of confidential, free, and no obligation ways to get in contact with us to learn more about treatment.