Resolutions – Recovery Residences
Residents that come to a Resolutions facility have already completed treatment at one of American Addiction Centers' facilities and are seeking the next step in the continuum of care. Resolutions' after-rehab programs and our connections with AAC's state-of-the-art facilities means that staff can provide residents with a high quality of care without impeding the resident's daily routines.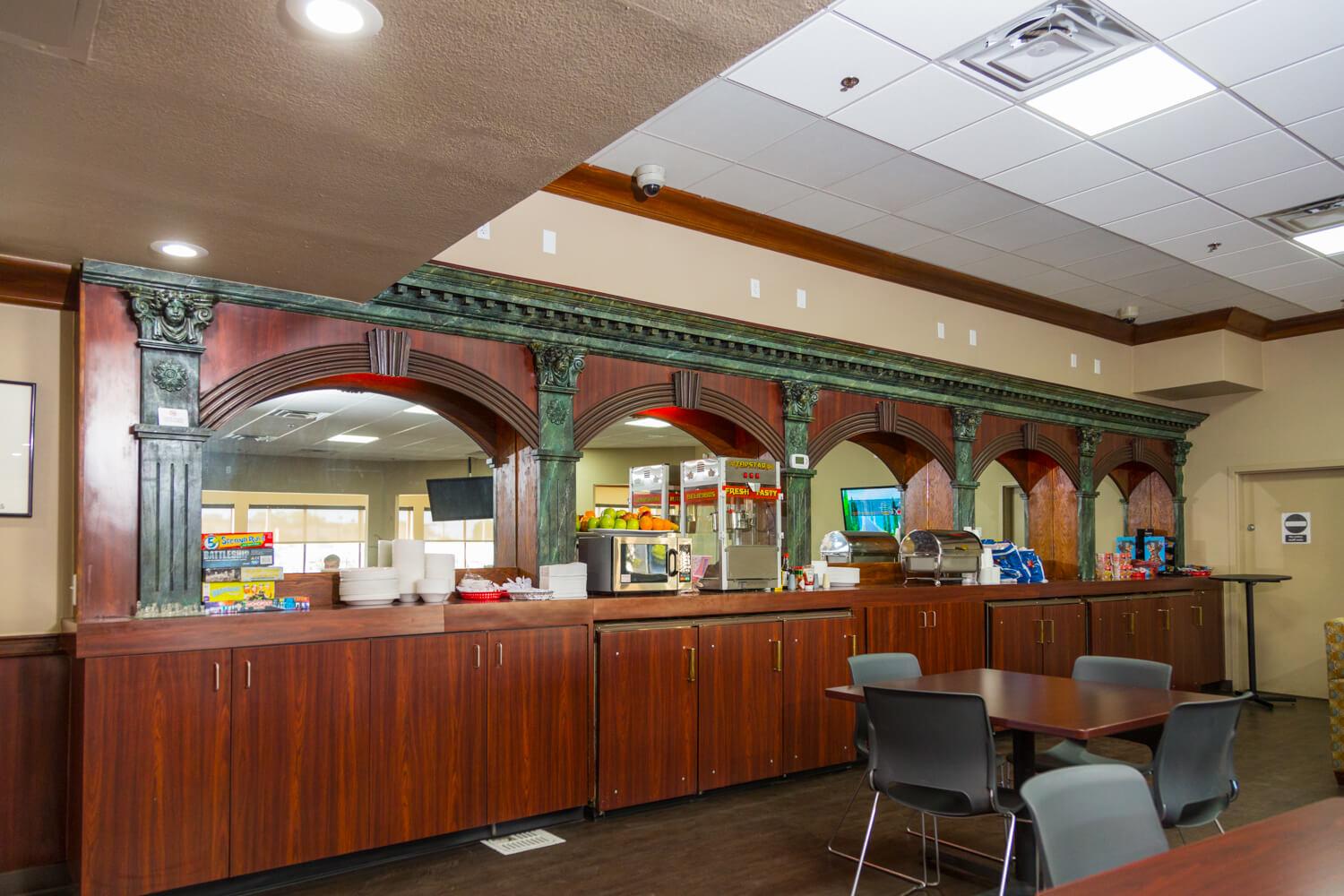 View All Photos
Prospective Patients
Resolutions is uniquely designed to provide ongoing support to those looking to maintain a sober lifestyle. Resolutions is a sober living residence, meaning that clients may live on our premises while attending an outpatient rehab program for extra support. Clients may also decide to hold jobs, further their education, and much more as a resident of Resolutions. Residents who are stepping down from another AAC facility will be transported, free of charge, to the recovery facilities.
Here, meals may be provided by a chef or clients may be responsible for feeding themselves, depending on the Resolutions location you choose. Residencies are gender-specific and men and women are generally separated by location, cabin, or floor.
Resolutions Oxford
Meals: Most meals are community meals, but some are provided. Within each home, patients plan and prepare meals together with help from a life-skills coach.
Housing Details: 4 cabins with 12 beds each, located adjacent to the Oxford Outpatient Center. 2 patients per room with a shared bathroom. Each cabin has a central living space with lounge area and a large kitchen and dining room for cooking and eating together, plus a laundry room. Cabins are gender specific and monitored by staff 24-hours-a-day.
Recreational Activities & Amenities: Recreational activities and outings are included in Oxford's Experiential Therapy. Some of the activities offered include disc golf, a ropes course, equine therapy, a 12-Step walk, as well as a labyrinth in which therapists will have patients do various activities.
Resolutions Las Vegas
Meals: An executive chef prepares meals.
Housing Details: Women stay at the 28-bed Resolutions Apartments, 2 per room. Men stay at the 110-bed Resolutions Las Vegas in a hotel-like setting.
Recreational Activities & Amenities: Weekly recreational trips and access to the Solutions wellness campus, including gym services. Weekly sport activities are held on-site.
Resolutions Arlington
Meals: An executive chef prepares meals.
Housing Details: State-of-the-art hotel with 1 or 2 clients per room.
Recreational Activities & Amenities: Gym, game room, and business office.
Sober living facilities are one of the best ways to ensure continued abstinence from drugs and alcohol after completing treatment at one of AAC's inpatient rehabilitation facilities. If you are now seeking the next step in the continuum of care, Resolutions' after-rehab programs will provide you with continuing structure, support, and accountability while also allowing you to work, go to outpatient treatment go to school, and tend to other personal matters.
Co-occurring Mental Health Disorder Treatment
The staff at Resolutions understands that addiction can manifest in tandem with other mental health disorders. Hence, Resolutions is able to accommodate those with co-occurring mental health disorders and treat these mental illnesses in tandem with substance abuse issues. This way, you're able to return to your life as someone who is equipped with the coping skills necessary to handle all that may challenge you.
Individual Therapy
Living at a Resolutions facility while simultaneously attending an outpatient rehab is our favorite recipe for success. If enrolled in an outpatient rehab program while living at a Resolutions facility, you will receive at least 1 meeting of individual therapy a week in your treatment that will provide you with ongoing support while residing in sober living.
Group Therapy
All Resolutions facilities hold communal group meetings, weekly AA and NA groups, and occasional special treatment events. Additionally, if you are attending an outpatient treatment program in addition to living in sober living, you may also participate in program-specific group therapies in your outpatient rehab.
Alternative Psycho-Educational, Supportive, & Expressive Therapies
Additional treatment interventions are offered to therapeutically support your overall care and wellbeing. These activities vary by Resolutions location.
Visiting your loved one
During your loved one's stay at Resolutions, we can work with you to plan a visit. Your loved one's treatment team will provide you with all of the information you need to schedule your visit upon admission.
We regularly treat disorders related to the following substances:
Alcohol.
Heroin.
Opioids.
Marijuana.
Methamphetamine.
Cocaine.
Benzodiazepines.
Prescription stimulants.
Sleep aids/sedatives.
Prescription drugs.
Fentanyl.
Hallucinnogens.
Other substances.*
*We provide treatment for almost all substance use disorders. If you don't see a particular substance listed here, contact our admissions navigators to confirm treatment availability. 
Length of Stay
The length of stay for rehab varies and depends on:
Level of care needed
Whether you need detox, inpatient program, or outpatient program.
Cost and insurance coverage
Whether your insurance may be able to cover all or part of the cost of treatment.
Our 90 Day Promise
In the event of a relapse at any time post-treatment, we will provide qualified individuals with up to 30 days of treatment at no cost to you.*
*Terms and conditions may apply, and results may vary.
Learn More About Our Brand Promise
Resolutions – Recovery Residences Reviews
Are You Interested in Treatment?
We accept various health insurance plans and can work with you on creating a manageable payment plan to fund your treatment stay at Resolutions – Recovery Residences.
Simply fill out the form below or
* These fields are required

More Treatment Facilities