Common Roadblocks Veterans Face when Seeking Help through the VA
Substance abuse and mental health issues among veterans is a growing problem in the United States. The emotional impact of the ongoing War on Terror, the rising prevalence of post-traumatic stress disorder (PTSD), and the increased use of powerful narcotic drugs to treat combat injuries are just a few of the factors that have contributed to this epidemic.
Despite having access to free government-sponsored substance-abuse programs, many veterans choose not to seek help. Here are a few of the reasons why.
The Problem with VA Treatment 
U.S. veterans who have enrolled in the Department of Veteran's Affairs (VA) health care system and have not been dishonorably discharged are eligible for free substance abuse therapy and support services through the Veterans Alcohol and Drug Dependence Rehabilitation Program.
Although this may seem like an obvious treatment choice, for many veterans, it's not a viable option. Lack of awareness, logistical challenges, social stigmas, and quality of long-term care are all additional factors that deter veterans from seeking the help they need.
Lack of Awareness
Some veterans aren't aware that they're eligible for substance abuse treatment as part of their military benefits. Others mistakenly believe that VA services are only for older veterans. This lack of awareness can lead financially challenged veterans to think that they can't afford the treatment they need.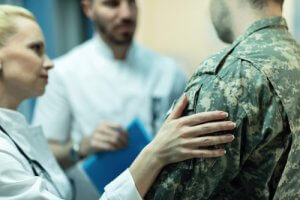 Logistical Challenges for Veterans
Veterans living in rural areas face additional challenges when it comes to seeking treatment. Although there are VA facilities all across the country, there may not be one within a reasonable distance from their home. In this case, private sector care is sometimes covered under VA benefits. However, depending on how rural the area is, the closest private facility may still be far enough away to create a logistical challenge.  
Social Stigmas for Members of the Military
Despite growing awareness of the connection between veterans and substance abuse, the social stigma still remains. Many veterans feel embarrassed and ashamed about their addiction or feel that asking for help is a sign of weakness.
Confidentiality within the VA system is another major concern. Veterans often worry that if their problem gets out, they'll face unfair discrimination.
Quality of Care
Many veterans also assume that they'll receive sub-par treatment under the VA program. This, combined with the factors previously mentioned, lead many veterans to believe that private treatment is their only viable option. Those who can't afford private treatment may decide to forego it altogether.
It's important for veterans struggling with substance abuse issues to know that there's hope. Admitting there's a problem and seeking help is the first step towards a healthy and successful recovery.
Resources: