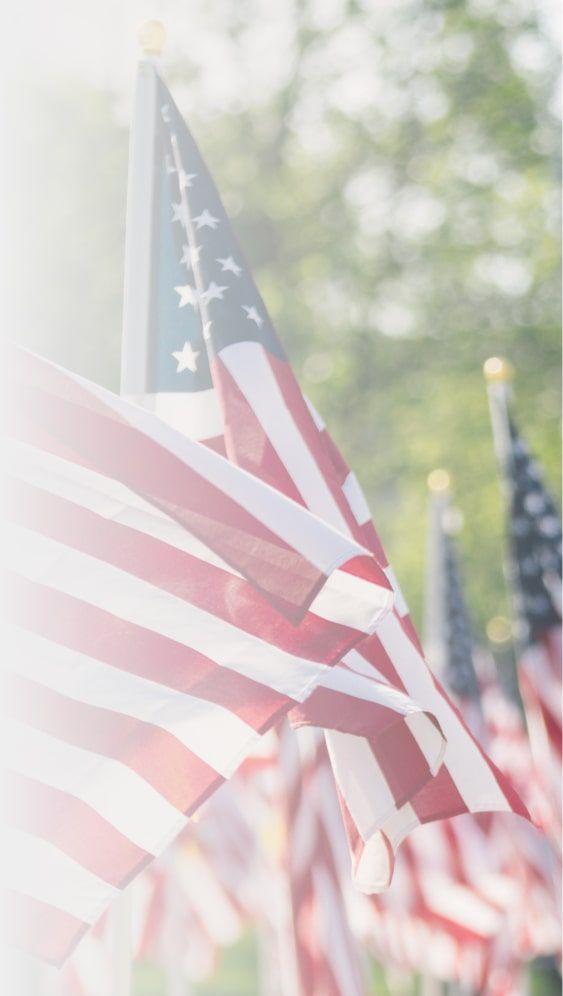 Salute to Recovery Program
For military Veterans and first responders dealing with substance use and other mental health disorders, our Salute to Recovery program provides a place of healing built on camaraderie, trust, and evidence-based therapies.
Program Overview and Mission
A specialized treatment program designed to help military Veterans and first responders struggling with substance use and mental health disorders, American Addiction Centers' (AAC) Salute to Recovery program provides healing, encouragement, and solidarity.
Utilizing evidence-based treatments, the Salute to Recovery program offers individualized care to current and retired U.S. Veterans from all military branches as well as first responders, such as law enforcement officers, firefighters, emergency medical services providers, emergency dispatchers, and correctional officers.
Additionally, the Salute to Recovery program creates a network of people to help guide and support Veterans and first responders throughout their recovery journey. Comprised of individuals who innately understand and can relate to their experiences, this network consists of other patients in the Salute to Recovery program, as well as staff members, many of whom are also Veterans.
Unfortunately, Veterans and first responders are at an increased risk of attempting and committing suicide.1 In fact, in 2019, the Department of Veterans Affairs (VA) reported that more than 6,200 Veterans died by suicide.1
The Salute to Recovery program aims to change that by providing Veterans and first responders with life-changing addiction and mental health treatment and the tools to help them sustain lasting recovery.
Therapy Types
Recovery is a lifelong process. The evidence-based treatments, therapies, and ongoing care offered at each of our AAC facilities provides you with the resources and tools to help you make lasting life changes. These therapies typically include:
Topic Coverage
Therapists and other healthcare professionals cover a variety of topics during each session. In the Salute to Recovery program, these topics include subject matter that's relevant and potentially unique to Veterans and first responders. Topics discussed may include:
The impact of stress.
Handling grief and loss.
Dealing with trauma and traumatic memories.
Returning to civilian life after completing active duty.
Creating a healthy work/life balance.
Anger management.
Cognitive distortions.
First responder and military culture.
Needs in recovery.
Character and values.
Post-traumatic stress responses.
Family and relationships.
The hypervigilant rollercoaster.
Pain management.
Relapse prevention.
Find Drug & Alcohol Rehab Treatment Near You
Facilities that specialize in addiction treatment
Insurance Coverage and VA Benefits
Depending on your specific insurance plan, some—or all—of the Salute to Recovery program costs will be covered. You can verify the treatment options that are covered under your insurance by reaching out to AAC through online chat, by phone, or by filling out this form.
At AAC, our representatives can guide you through the necessary steps to receive assistance from the VA. After you apply, your primary care physician can help you get screened for substance use problems and other mental health issues to determine your specific needs.
If you don't have insurance, there are still options for financial assistance. The VA offers benefits for care to eligible Veterans.
Check to see if your insurance is in-network at an American Addiction Centers location.
* These fields are required
Salute to Recovery Admissions Process
The admissions process for our Salute to Recovery program is straightforward, making your mission to find the best treatment as simple as possible. Our process includes:
Salute to Recovery Sample Schedule
Every day you spend in treatment brings you closer to a happier, healthier life. While the timing of activities during a typical day of treatment in one of AAC's Salute to Recovery programs differs, the daily schedule encompasses 60-75-minute sessions and might look something like the following:
7:30 a.m. Wake up/breakfast
8 a.m. Personal time
9 a.m. Psychoeducation
10 a.m. Veterans/first responders process groups
11 a.m. Recovery communities
12 p.m. Lunch
1 p.m. Cognitive behavioral therapy groups
3:30 p.m. Personal time
4 p.m. 12-step meetings
5 p.m. Mindfulness
6 p.m. Dinner
7:30 p.m. Gym time
11 p.m. Lights out
Testimonials and Reviews
Hear firsthand from AAC alumni from the Salute to Recovery program.
The Salute to Recovery Program

Navigating Veteran & VA Benefits

A Veteran's Treatment Testimonial

Salute to Recovery Program Reviews