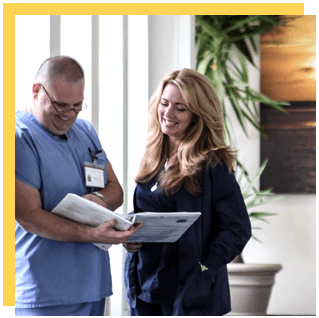 The mission of American Addiction Centers is to provide those suffering from addiction the highest quality treatment, marked by clinical excellence, individualized care, and a supportive community that inspires believable hope.
We take a big picture approach to addiction treatment by addressing each client as a whole person. We evaluate how factors such as your lifestyle, environment, health, and co-occurring mental illnesses may play a part in your addiction involving drugs and/or alcohol, and create a customized, research-based treatment plan just for you. There are many factors that set American Addiction Centers apart, learn about a few of them below.
Outcomes Study
At AAC, our idea of a successful outcome extends beyond abstinence from drugs and alcohol to include how social functioning, physical health, mental health, and quality of life can be repaired and transformed as well. We partnered with Centerstone Research Institute, an independent nonprofit research organization, to evaluate the success of our treatment programs. Only a handful of national treatment centers measure their outcomes and publicly share the findings. One year after treatment, 63 percent of AAC alumni reported abstinence from all substances in the past 30 days, more than twice the national benchmark of 30 percent. Substance abuse and mental health disorders often occur together, but after dual diagnosis treatment, our alumni reported a 59 percent decrease in psychiatric symptoms, including serious depression, serious anxiety, and suicidality. Addiction also can place a heavy strain on family connections. However, AAC alumni report that following residential treatment, the number of days of family conflict decreased by a remarkable 94 percent. Alumni reported a significant decrease in conflict in other relationships as well. Finally, our alumni reported that the number of days they experienced medical problems reduced by 44 percent after completing our holistic addiction treatment model. These results indicate that AAC's treatment programs are not only helping individuals find lasting recovery, but also helping improve their overall quality of life.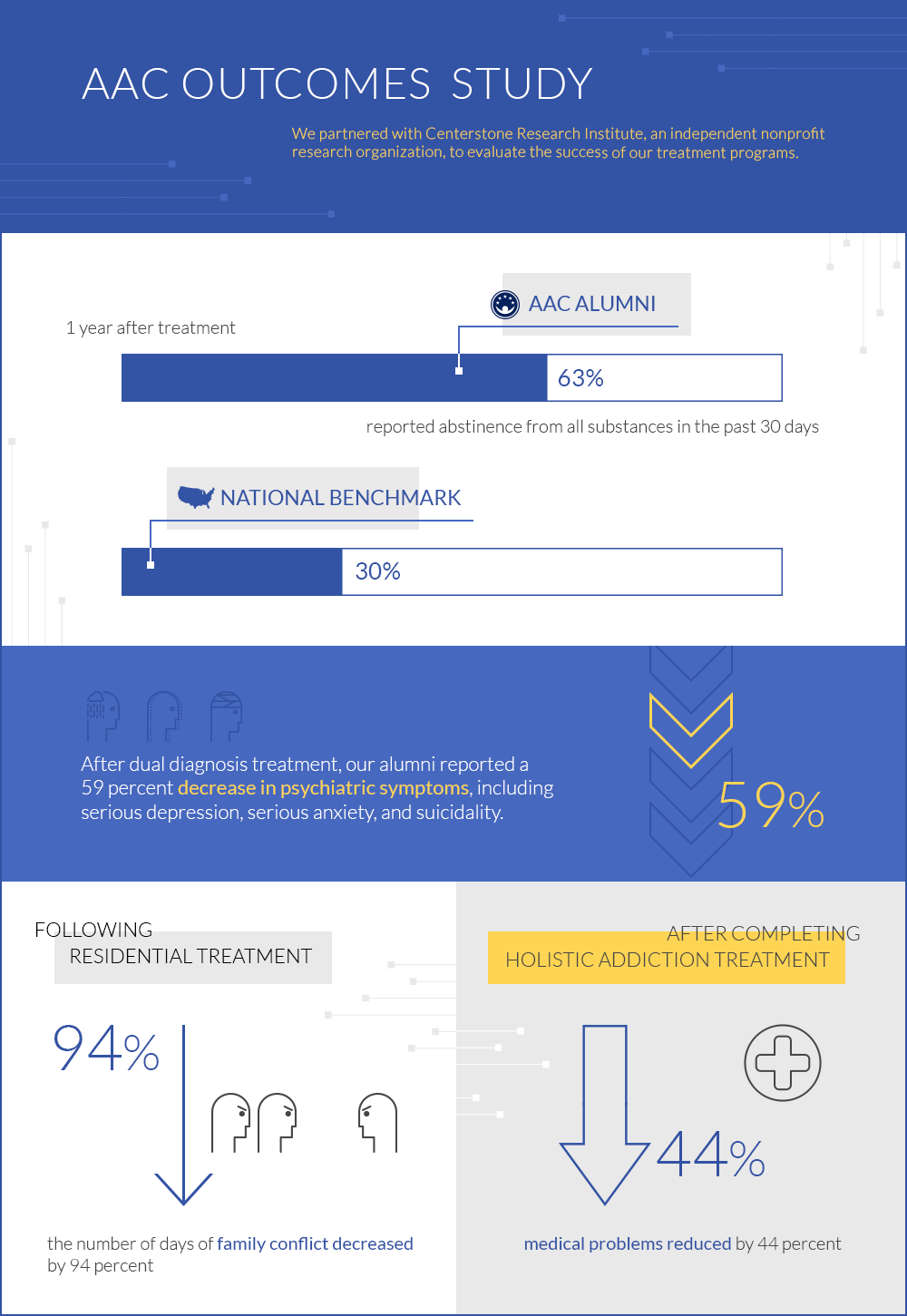 Ready to leave addiction behind?
Call now to speak to a consultant about your treatment options
(888) 966-8152
Labs
AAC's utilization of an addiction-focused laboratory is another feature that sets American Addiction Centers apart from most addiction treatment centers. Addiction Labs is a high-tech laboratory that caters to the unique testing and monitoring challenges of addiction treatment. Addiction Labs prides itself on excellent service, speed, and accuracy. Their testing menu includes not only the latest toxicology tests, but also general clinical testing that can help diagnose, monitor, or rule-out medical concerns, as well as pharmacogenetic testing that can aid in finding the best medications for you. AAC's medical and psychiatric providers can easily consult with toxicology experts about laboratory results, enabling thorough understanding and interpretation. Addiction Labs has industry-leading turnaround times and adheres to strict quality control protocols to ensure that results are quick and accurate.
EarlySense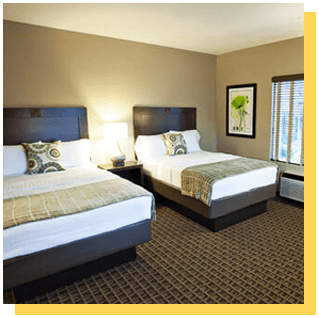 EarlySense
is an FDA-cleared patient monitoring system that gathers data without patient contact, instead using advanced sensors placed beneath a bed mattress or inside a chair cushion. EarlySense constantly monitors and analyzes the patient's heart rate and breathing rate, two of the most critical and earliest predictors of declining health, as well as movement and bed exit. A pulse oximeter can be integrated to monitor and evaluate oxygen saturation. If EarlySense detects concerning changes, it will immediately alert nurses through the central display station, the bedside unit, a hallway screen, mobile devices, pagers, and/or tablets. This helps nurses more effectively care for patients, by allowing them to continuously supervise patients even when not in the patient's room or at the nurses' station and by identifying small changes in patient's vital signs that nurses may not detect during routine rounds.
Earlier detection of patient deterioration enables earlier intervention.
Research
shows that when EarlySense is used, there is a reduction in adverse events, including code blues from respiratory or cardiac arrest, avoidable ICU transfers, pressure ulcers, and patient falls, as well as fewer hospital readmissions. Laguna Treatment Hospital is the first AAC facility to use EarlySense technology, but there are plans to expand its use to more facilities. AAC's use of EarlySense is revolutionizing the treatment of addiction. It improves patient safety and overall quality of care during detoxification, enabling patients to have better outcomes with fewer complications and providing peace of mind for patients and their loved ones.
Alumni Program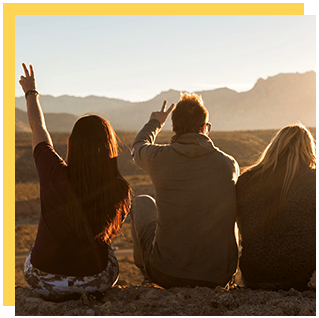 Once you complete treatment, readjusting to everyday life without drugs or alcohol can be difficult and stressful. It's common to relapse back into old patterns within the first few months post-treatment. That is why AAC treatment graduates are automatically enrolled in our nationwide network of program alumni. Peers, who understand the recovery process from personal experience, support graduates through the ups and downs of a life in recovery, celebrating accomplishments and helping one another in difficult times. Alumni ambassadors and peers regularly check in with graduates, and alumni have 24/7 access to our alumni concierge for continued support. There are even opportunities to involve supportive family and friends in the recovery experience. AAC's alumni program also hosts fun group outings in locations across the country, as well as regional and national events. AAC's
alumni website
features many recovery resources accessible anytime.
Start The Admissions Process Now
Free.
Your 1-on-1 consultation and Insurance Verification are 100% Free
Easy.
All you have to do is pick up the phone and call or chat now
Confidential.
We will never share your information with a third party without your explicit consent