Stigma occurs when an individual views another individual (or even themselves) in a negative way for the sole reason of having a mental health condition. Some describe this experience as a feeling of judgement or shame from someone else.
Stigma encourages a life of secrecy, blaming, and isolation, which creates obstacles for an individual struggling with substance misuse. These barriers make it difficult to live a healthy and productive life or to get the support they need.
As a nationwide leader in addiction treatment, American Addiction Centers (AAC) approach the subjects of substance misuse and co-occurring mental health conditions with compassion and a team of professionals and licensed physicians in a safe environment. We provide medical detox, treatment, and help with aftercare planning. If you're struggling with substance misuse, please reach out for the help you need today.
An Artist, Stigma & Substance Misuse
William Stoehr is an artist, an advocate for decreasing the stigma of addiction, and a brother to a woman by the name of Emma who died of an opioid overdose at age 57. He decided to take his emotions as a "witness" to the disease, and channel them into his art.
Artists have always re-directed their emotions into their work. From musicians, to writers, to playwrights, to filmmakers, to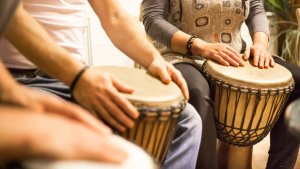 photographers, to sculptors, to illustrators, to painters, as well as so many others.
William felt drawn to do something to raise awareness even outside of his possible traditional advocacy efforts. He decided to use his talents to convey his feelings and to reach others.
Substance misuse, or addiction, is a recurring disease characterized by a compulsion to seek and to use a substance, regardless of its negative impact. Because it includes functional modifications to the circuits in the brain that include self-control, reward, and stress, it is considered a brain disorder.
Imagine having the need to treat this disease or to even have the courage to seek out treatment, when so many people stigmatize the very condition that one is battling.
Facts about stigma's effects:
Suicide is the 10th leading cause of death amongst Americans.
Suicide is the 2nd leading cause of death amongst those 15-24.
Less than 50% of U.S. adults who need treatment, receive it.
The leading cause of disability in the U.S. are mental health conditions.
Individuals with mental health conditions face discrimination, rejection, and bullying.
There is an 8–10-year average delay between the onset of symptoms and intervention.
William's sister loved his art and so he made an agreement with her: He promised that he would paint her a portrait if she went back to rehab. She agreed and remained sober for five years until she faced what must have felt like insurmountable obstacles. Her husband passed away, and she had to face back surgery once again, which subsequently, required more pain pills. She relapsed and passed away.
If you find yourself struggling with substance misuse, co-occurring mental health conditions, or stigma, you're not alone. AAC provides treatment with a compassionate and welcoming medical staff to help individuals. Please reach out to get the help you need today.