Brian Cuban: Substance Addiction
From the outside peeking into someone's else's world, it may seem that the outsider sees and understands what that individual is up against solely based upon a glimpse into that life. But only the individual living that life truly knows the totality of their own battles and struggles. Whether they're a lawyer, an author, a TV personality, a mom, a dad, a husband, or a wife, they all face challenges in some capacity. And some individuals are even more vulnerable to developing conditions such as substance addiction, eating disorders, or even depression.
Joy Sutton, host of American Addiction Centers' (AAC) talk show, Addiction Talk, had the opportunity to interview Bestselling Author Brian Cuban!
In this riveting interview, Brian – younger brother to Shark Tank's Mark Cuban — shares his struggle with cocaine, alcohol use, and body shaming, as well as how he removed himself from underneath these weights, and ended up stronger than ever. Brian's journey towards a life of sobriety, although riddled with pain, is also authentic, honest, and triumphant.
Be sure to catch up on inspiring past episodes of Addiction Talk, and to watch this latest heartfelt episode — "How My Insecurities Fueled My Addiction: The Journey to Self-Acceptance." Brian's story on substance addiction moves and inspires!
If you're battling a substance use disorder (SUD), alcohol use disorder (AUD),  and co-occurring mental illness, you're not alone. Resources are available to help. AAC is a nationwide leader in addiction treatment and provides care in a safe and supportive environment under licensed medical professionals. If you're struggling, please reach out for help.
Eating Disorder, Substance Addiction, Stigma & Celebrity
As a young man, Brian Cuban struggled with untreated clinical depression, alcohol misuse, bulimia, and body dysmorphic disorder. By the time he was in his late twenties, he was using black-market Xanax and Ambien, as well as cocaine.
Life got so bad (from his perspective) that there were times when Brian contacted his brother, Mark Cuban, owner of the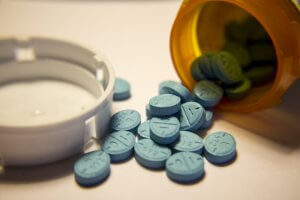 NBA Dallas Mavericks, for tickets. He then turned around to use the tickets in trade for cocaine with his dealer. And as the echoes of suicidal thoughts started to get too noisy and overwhelming, Brian went into Green Oaks Psychiatric Facility in July 2005.
So, how does an individual facing these obstacles with the "Cuban" name get help? Brian decided to go public with his story with the full support of his family, including Mark Cuban.
"And now let's be honest… in an era where there is still stigma, I get judged harshly by some people, but I also learned to let it roll off," admitted the bestselling author of the book Shattered Image: My Triumph Over Body Dysmorphic Disorder.
"I've been called every stigmatized term… dealing with substance use disorder…."
"When I first started talking publicly about it," Brian said, "I was getting emails from people that said, 'wow, I had no idea.'"
"Aren't you afraid of backlash?" people asked.
To which Brian responded, "At that point I was a little bit, but I would also get emails from people that said someone with your last name… that gives me hope. If it can happen to you, it can happen to anyone. And the fact that you found recovery gives me hope."
The shaming and the stigma that is often associated with substance misuse, eating disorders, or mental illnesses sometimes stops many from seeking the help they need. Even though Brian humbly doesn't see himself as high profile, those who have read his books or heard him speak are inspired to make changes in their own lives and get the help that they need.
To learn more about Brian Cuban and the details of his journey towards sobriety in its entirety, watch this recording of Addiction Talk. And if you find yourself battling with alcohol or substance misuse, please reach out for the help that you need today.