Can Music Lead to Sobriety?
Music therapy is a way to help those who have struggled with substance misuse and are now in treatment living their life in sobriety. This type of therapy is the use of music and the therapeutic relationship to create connection to oneself and to motivate change while learning to live a life of long-term sobriety. Board-certified music therapists (MT-BC) work with both adults and teens for the treatment of addiction.
Substance Use, Music & Sobriety
Joy Sutton, host of American Addiction Centers' (AAC's) talk show, Addiction Talk, interviewed Wes Geer — founding member of the band Hed PE and former Touring Guitarist of the band Korn. Wes' music has been featured in video games, radio and television shows, and feature films.
The songwriter/producer went on to become the founder of Rock to Recovery, an organization that grew from his realization of the healing power of music during his own experience in rehab.
Be sure to listen to this heartfelt episode entitled: "How to Rock Recovery: Lessons from Former Korn Guitarist Wes Geer." In this interview, Wes opens up about his struggles with addiction, as well as his ongoing triumph along the road of recovery.
Some musicians, and even [some] undertaking other artistic endeavors, hold the belief that art can only be created if under the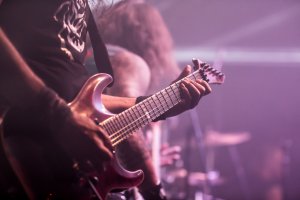 influence of some sort of substance (alcohol or drugs). This belief is false. Although some drugs may lower inhibitions and thereby build a false sense of confidence in order to create, it's the talent, skills, and discipline of the individual that creates the book, the painting, or the music.
And when asked about this topic, Wes speaks very candidly about his former mindset as an artist. "The reality is that our brains are full of self-doubt. So, you're turning off that doubter. That overthinker. You're trying to find that thing where you're like, 'Ooh, this feels cool and different.' When you're loaded, it's easier to get to that place. To shut it off, to kind of just feel the music without the judging mind."
And now, he has a different perspective. "When you learn to create while sober, you're truly channeling creative and divine spirit. When you think something's good, it's good. It comes from a true place of expression because it's not synthetic."
The former Korn guitarist also remembers experiencing a lack of stability for portions of his childhood.
"We moved a lot in my childhood as my family was working so hard to give us a better life. But I was the new kid. I was in Garden Grove for a number of years. End of elementary school into high school. Then we moved again. I got emotional over that. I was scared and didn't know how to feel it. That's when I picked up weed."
Many people turn to using substances when they want to control their emotions, specifically for an improvement in performance in school or work, to stop feeling bad, or to just feel good. And sometimes, it's just curiosity.
"I looked at my timeline when my use [of substances] went up. It was always after something that felt emotional happened to me," admitted Wes.
Although he spent years battling substance misuse, Wes got sober and founded the Rock to Recovery organization, whose mission is to help "people heal and transform their lives through the powerful experience of writing, playing, and performing music as a group."
Listening to music can decrease anxiety and aid in relaxation because it calms the parasympathetic nervous system. Furthermore, listening to music and "active music-making" has demonstrated that the activities activate dopaminergic pathways in the same way that illicit drugs do. This may improve mood and decrease cravings.
To learn more about Wes Geer, Rock to Recovery, substance misuse, and sobriety, please watch this episode of Addiction Talk. And if you find yourself battling with addiction, please reach out for the help that you need today.
*Interview content edited for clarity.