Celebrity status doesn't exempt an individual from alcohol misuse. Sometimes the pressure of the career may open the door to self-medicating as a way to deal with the overwhelm. But it doesn't have to be that way. Alcoholism doesn't have to be in control of an individual's life.
Joy Sutton, host of American Addiction Centers' (AAC's) talk show, Addiction Talk, interviewed Actress Christy Carlson Romano. Christy has starred in the Disney animation series, Kim Possible, as well as the live-action Disney series, Even Stevens, and most recently, Celebrity Kitchen, Bucket List Bistro, and a slew of other TV series and movies.
Even with her shiny list of successes and accomplishments, Christy's humble, sincere, and welcoming demeanor is what shone through the most during her interview as she shared her challenges with alcohol, overcoming them, and living a life in sobriety.
So, be sure to watch this Addiction Talk episode entitled: "Breakdown to Breakthrough."
If you're struggling with an alcohol use disorder, resources are available. And you're not alone. As a nationwide leader in addiction treatment, AAC provides medical detox, outpatient and inpatient care under licensed medical professionals, and aftercare planning. Please reach out to get the help that you need.
Alcoholism, Family Life & Sobriety
Christy Romano speaks candidly about her struggles with alcohol and her experience of being a child actor. She started acting at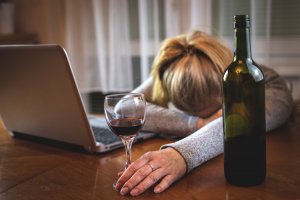 age 6. And she started binge drinking at age 16 in order to cope with shyness. As time moved along, she got to the point where she would sleep throughout the day until it was time to go out drinking once again.
When asked about what it was like to be a child star, "I call it a narcissistic purgatory because while everyone seemingly loves you, you feel very much alone," shares the Even Stevens' star. "You're constantly consumed with your self-image and your self-development and your value."
Christy goes on to explain that when they [child actors] are young, they can lose their self-worth, and turn to alcohol and drugs as a means to self-medicate in order to have the feeling of value. This may not happen to everyone, but this is what she's observed and experienced.
The Kim Possible star developed depression and was prescribed antidepressants. They were ineffective due to not being able to stop herself from drinking because it was "so embedded" as a part of her life each day, as she puts it.
Alcoholism, or alcohol use disorder (AUD), is a decreased ability to control or stop alcohol use, even with experiencing negative consequences socially, physically (health-wise), and occupationally. An AUD is a medical condition that ranges from mild, moderate, and severe.
Christy said she stopped drinking when she discovered she was pregnant with her first child and has been sober since July of 2016.
Please note, quitting alcohol without medical supervision for some individuals can be dangerous. Please consult a licensed physician for guidance if you feel you may have an addiction to alcohol.
This captivating interview shows a very vulnerable and authentic Christy, sharing her experience with alcohol and how it devolved into what she later realized was a problem. She's now taking life one step at a time and focused on her husband and their two daughters.
To learn more about Christy Carlson Romano and her path towards sobriety, please watch this episode of Addiction Talk. And if you find yourself battling with alcohol misuse, please reach out for the help that you need today.
*Some of the wording from the interview was edited for clarity.