How to Have a Sober Valentine's Day
Valentine's Day is an opportunity to celebrate a relationship with that special someone. Or for those currently not in a relationship, it may be a holiday that could possibly bring up negative emotions because of the pressures that society places on us to have a partner. Either can serve as a trigger to drink: a celebration of love with champagne or wine, or a bottle of "whatever-alcoholic-beverage" to numb emotions.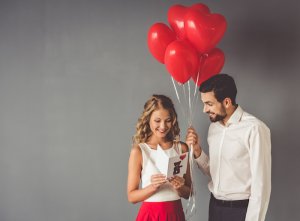 So how can you maintain your sobriety during this holiday of love, despite whatever your situation might be?
Sobriety Options for Valentine's Day
There are several sober activities that can be done with a partner or with close friends. You can remain sober and still have an amazing Valentine's Day regardless of what your circumstances are.
For example, Chris Marshall, an Austin, Texas, resident with over a decade of sobriety under his belt, created Sans Bar, a sober venue where people can enjoy the night life, listen to music, connect with others, and drink non-alcoholic beverages in a welcoming environment to all. He has even spearheaded pop-ups of his business around the country to contribute to others who want to enjoy themselves without alcohol.
Although Sans Bar may not be available within your city on this particular Valentine's Day weekend, options are available for you to still have good, sober fun.
Sober Activity Suggestions
Try a new restaurant/cuisine (at a venue that doesn't serve alcohol if you're easily persuaded or choose not to drink).
Go to a movie theater, stage play, museum, or concert (and choose not to drink).
Stream movies/shows online with friends and/or a date.
Go hiking.
Sightsee on a mini staycation.
Visit and sightsee a city you've never been to before.
Whatever you choose to do, whether you've a partner or are single, use this holiday as an opportunity to try something new in a healthy and productive way that supports your long-term sobriety.
What to Do if You Fear Relapsing
The fear of relapsing is real. After all, you've worked hard to be sober. You might've gone through detox, through a treatment program, gotten sober, and have been living life in recovery for a while now. It can be scary to think that you're one drink away from interrupting your sobriety. But it does happen. And the pressures of a holiday, like Valentine's Day, could be the trigger for a relapse.
Some Risk Factors for Relapse
Final Word on a Sober Valentine's Day
Ultimately, it is up to you to keep yourself safe and healthy during this holiday. Enjoy your time with your loved one and friends. Valentine's Day is about love, so surround yourself with those that matter to you. If you prefer to spend the day alone, then focus on treating yourself with respect and love. Overall, whatever you do, have a fun, safe, and sober day.
If you find yourself struggling with alcohol abuse, help is always within reach. Happy Valentine's Day.