Is it Ever too Late to get Sober?
No. If you're struggling with alcohol use disorder or substance use disorder and want to walk along the road to recovery, the path is available with the help of a supportive team. Although sobriety is a continual process, and often a choice that the individual usually makes on their own, treatment can save their life. And just as it has with others who have taken that first step already, sober living is meant for anyone willing to take their own first step to get help.
Substance Use, Second Chances, Sobriety
Joy Sutton, host of American Addiction Centers' (AAC's) talk show, Addiction Talk, interviewed Reality TV Star Captain Sandy Yawn of the hit series Below Deck Mediterranean. Sandy has recently celebrated her 33rd year in recovery and offers encouragement to others.
Be sure to listen to this engaging episode entitled: "Anchored by Sobriety: A Captain's Voyage to Recovery." Sandy reaches the viewers with a very raw and authentic share of her experience with addiction, her personal life, and her path to sobriety.
After battling substance misuse, Sandy Yawn turned her life around over 30 years ago to live a life of long-term sobriety. Before that, she spent a number of years in and out of rehab and finding herself in perilous situations.
The reality TV star admitted, "…marijuana was my gateway drug. Alcohol was my drug of choice. I ended up smoking crack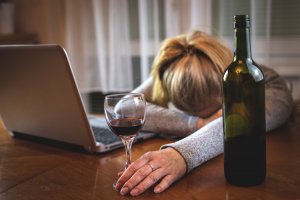 cocaine and lost everything. Addiction robbed my life."
As painful as her story may be to hear because of what she's gone through, it's inspiring to know that she overcame and worked through challenges in order to be sober. Somehow she came out on the other side empowered and enlightened.
Not everyone's experience with substance misuse ends the same way. Sandy shares her past struggles with drugs and alcohol candidly in the hopes that others will make healthy choices for themselves.
When asked about her reality series, "Honestly, the show is a result of my being sober. I would have never had this if I was out there using. I probably would be dead by now. The show is doing well. It will do well without me.  It is really reality. And a lot of what you see on television is a direct result of all of the work that I've done in recovery," shares Sandy.
This doesn't mean that everyone who goes into recovery will have their own hit TV show. It was a process for Sandy to even arrive at this moment. Remember, she has been in recovery for 33 years. There were many obstacles that she worked through, as with all endeavors. Those in recovery are encouraged to be patient and kind with themselves.
To learn more about Captain Sandy Yawn, alcohol use disorder, substance use disorder, and recovery, please watch this candid episode of Addiction Talk. AAC, a nationwide leader in addiction treatment, provides care under compassionate licensed medical professionals within a safe environment. If you find yourself battling with alcohol misuse, please reach out for the help that you need today.
*Interview content was edited for clarity.