Marriage, Motherhood, & Alcohol Addiction
Alcohol is legally and socially acceptable, which makes it a substance that's as easy to retrieve as going to the grocery or local convenience store and picking it up. For many, alcohol is just one of many beverages available to drink and is naturally integrated into social settings. However, for some individuals who struggle with an alcohol use disorder (AUD) are facing a disease that requires professional and medical treatment in order to get the help they need. Although drinking and socializing may not be a concern to many, for others, the alcohol addiction may be too overwhelming.
Joy Sutton, host of American Addiction Center's (AAC) Recovery Stories from the Pandemic series, had the opportunity to interview Kelli–a married mother of two children who struggled with drinking.
She not only attended Recovery First in Hollywood, Florida—one of AAC's nationwide treatment facilities—but she shares her battle with alcohol, her road to recovery, and where she is now. She even provides advice to those battling the disease during this global pandemic. You can listen to this episode within this limited series where she discusses her journey.
If you're struggling with an addiction to alcohol, you're not alone. Help is within reach. AAC is a nationwide leader in addiction treatment and provides treatment in a safe and supportive environment. If you're battling an AUD, please reach out for help.
Addiction, Relapse, & Recovery
We are happy to report that Kelli is currently in recovery and has been so for over nine months, but before she experienced this success…
When Kelli first got sober, she relapsed and shared how alcoholism is a chronic disease that individuals have to fight daily. She returned home to her regularly scheduled life and felt she didn't get the support that she needed. Regarding this earlier time that she went to treatment, she says, "Just because I went to treatment doesn't mean I'm cured. There's not a cure for any of this. Pretending that it doesn't exist doesn't help. Instead, that made me feel secluded again. I couldn't talk about it because nobody acknowledged it. I felt stressed and overwhelmed. It's something I have to fight every day."
But the bright side…
"I am over nine months sober now. I'm working. I still have the same stressors… but I don't let myself get to the point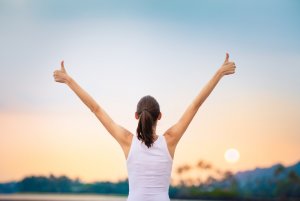 where I feel like I don't have an option to turn to other than to drink," says Kelli. Over nine months into her sobriety. That's promising. That's powerful.
The other options that she chooses when she feels triggered is "texting a friend… doing something with my kids, talking to my husband about random stuff… I go to an alumni group on Thursdays from Recovery First… it's good and I'm really happy to be doing it sober," says the Recovery First alumni.
Just like Kelli, others can take the step towards reaching long-term sobriety as well.
To learn more about Kelli, please watch her interview in its entirety: Recovery Stories from the Pandemic series. And if you find yourself battling with alcohol misuse, please reach out for the help that you need today.