Military Service Members: Addictions & Co-Occurring Disorders
Military Service Members: Addictions & Co-Occurring Disorders
We are constantly looking for protection from outside threats. It may be in the form of a password/face ID on our cell phones, an alarm system on our homes, or if on a broader scale, protection for our country comes in the form of our United States military. However, who is going to protect our service members when they are the most vulnerable? Many current and former military members struggle with alcohol use disorder, substance use disorder, and co-occurring mental health disorders. And although it is kind to thank them for their service, many need much more than verbal gratitude.
Joy Sutton led an informative panel discussion entitled Caring for Our Nation's Heroes at the end of May, which is the month set aside to observe national military appreciation.
The panelists consisted of a few of American Addiction Centers' (AAC) employees:
C.J. Jemison. C.J. is a therapist at AAC's Desert Hope location.
Dr. Steven Ramos. Dr. Ramos is a therapist at AAC's River Oaks' location.
Christine Hernando. Christine is a therapist at AAC's River Oaks' location.
This discussion was a great starting point to create open dialogue about substance misuse and mental health conditions amongst service members.
AAC is the nationwide leader in addiction treatment and offers specialized treatment options tailored specifically to current service members, veterans, and first responders. Just as we provide to others, we provide medical detox, inpatient and outpatient treatment, as well as aftercare to those in the military . If you're struggling with an addiction to substance misuse and co-occurring disorders such as post-traumatic stress disorder (PTSD), please reach out to get the help you need today.
Stigma, Substance Misuse & Co-Occurring Disorders
According to AAC's Dr. Steven Ramos, "We're losing active-duty service members to addiction, to mental health issues, and suicide."
So, when asked why he believes the conversation should focus on mental health and addiction when we think about military appreciation month, his concern is the reality of what they're facing.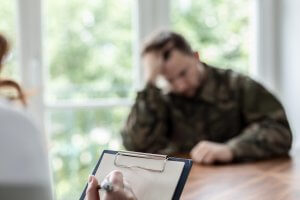 He explains that people are not only dying from suicide, but that they are self-medicating with substances in order to manage their mental health challenges. Additionally, they are faced with the stigma associated with substance misuse and mental health conditions, which causes many to not want to seek the help they need.
Therapist C.J. Jemison also chimed in regarding the stigma surrounding these challenges. When asked what the military members are struggling with now, as well as first responders, C.J. says that "…stigma is a really big thing, even though the individuals come to treatment, they're very grateful to be in treatment," but "when we look at military culture, the concern is, 'I don't want to feel like I'm weak.'"
So, it's not just the battle with their own mental health, but it's another battle with how they are perceived by their peers.
Additionally, mental health and substance misuse doesn't just stop with active duty service men and women. It's problematic with veterans as well and has been going on for a long time.
A 2013 National Survey on Drug use and Health stated that 1.5 million veterans 17 years of age or older struggled with a substance use disorder in that past year.
According to the National Institute on Drug Abuse (NIDA), use of illegal drugs increase when individuals on active-duty depart from the military.
Christine Hernando, a therapist at AAC's River Oaks Treatment Center, works with both veterans and service members. "These are the people who are used to handling things on their own. Tough stress situations. Life and death situations. So, having to admit to what they perceive as weak or vulnerable is incredibly difficult for them."
To learn more about the military, substance misuse, and co-occurring mental health conditions by a well-informed compassionate group of panelists, watch this panel discussion on Caring for Our Nation's Heroes in its entirety. And if you find yourself battling an addiction and with your own mental health, please reach out for the help that you need today.
*Some quotes were revised for clarity.