Razors in Halloween Candy? What about Drugs?
We've all heard the urban legend about razor blades being hidden in candy apples on Halloween. Each year, parents are warned about how drugs might wind up in their children's sacks after a wholesome night of trick-or-treating. And now with the rise in rainbow fentanyl, should parents be even more concerned? Is there any truth to these spooky stories?
Drugs in Halloween Candy: Superstition or Fact?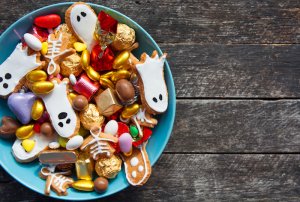 The answer is a little bit of both—but mostly the former. These situations are rare; so rare, in fact, that there have never been any reliable, reported cases of a child actually being poisoned, killed, or injured by candy that they were given while trick-or-treating. There was a close scare in 2018, when a 5-year-old child was hospitalized due to methamphetamine consumption shortly after trick-or-treating. However, a police investigation determined the drugs didn't come from candy—they belonged to the boy's father.
While reports of illicit drugs hidden in candy have been greatly exaggerated, there have been a few disturbing instances where it occurred. In 2018, some parents reported feeling ill after eating some Sour Patch Kids their children had received while trick-or-treating in Aloha, Oregon. Testing revealed that the candy contained methamphetamine. Fortunately, the children hadn't consumed any of the tainted treats and the parents recovered after a precautionary trip to the hospital.
Perhaps the closest call occurred in 2019, when a woman found a small bag of a substance believed to be heroin in a batch of candy at a Trunk-or-Treat event in New Jersey. Awful—for sure—but the small baggy of heroin would be hard to mistake as candy, at least for an adult.
And now the latest scare in Halloween candy mayhem is fentanyl. Fentanyl is a synthetic opioid responsible for thousands of overdoses and deaths over the last 20 years. It's important that everyone take the threat of what unknowingly consuming a lethal amount of the substance can do, and to therefore be cautious, but to not panic.
"Rainbow fentanyl –fentanyl pills and powder that come in a variety of bright colors, shapes, and sizes—is a deliberate effort by drug traffickers to drive addiction amongst kids and young adults," said Anne Milgram, a DEO Administrator. While this may be true, there is currently no direct connection with this leading to a national crisis with Halloween candy.
Take No Chances
While the chances of finding drugs in your kids' Halloween candy are not much higher than seeing a ghost, you should always exercise caution. Here are some helpful tips:
If you can, go trick-or-treating with your kids or at least make sure they're supervised by someone you trust.
Sort through your kids' candy to make sure nothing looks out of the ordinary. This is a good opportunity to collect some "tax," if you catch my drift. This means the following items belong in the trash:

Candy that has been opened.
Unwrapped candy.
Candy from brands you've never heard of.
Anything that looks remotely suspicious.
If you take these precautions, you've effectively limited the chances of your child getting hurt from Halloween candy to almost zero.