Substance Misuse and Pregnant Women
Judging, shaming, and stigmatizing individuals are proven to be ineffective approaches for healthy, productive, and lasting change. Instead, they serve as proverbial weapons that tear at the core of an already-fragile human condition—a condition that strives to be valued, to matter, and to be loved. Pregnant women are no exception.
A woman battling substance misuse needs help. A woman struggling with substance misuse who happens to be pregnant, also needs help, and requires a specific type of care.
An SUD is defined as a reoccurring use of drugs and/or alcohol that leads to clinically serious impairment, which may be inclusive of disability, health problems, and failure to meet one's responsibilities at home, work, or school, according to Substance Abuse and Mental Health Services Administration (SAMHSA).
If you find yourself struggling with substance misuse and are pregnant, you're not alone. American Addiction Centers (AAC) is the nationwide leader in addiction treatment, and we provide treatment with a compassionate medical staff to help both women and men to get on the road to recovery. If you're currently struggling, please reach out to get the help you need today.
Pregnancy, Women, & Substance Misuse
Substance misuse, whether it's alcohol, illicit drugs, or misusing prescriptions such as opioids, impacts many Americans.
In 2020 alone, 50% of individuals aged 12 years or older used alcohol within the past month. Just the year before, in 2019, 1.2 million adolescents between the ages of 12 and 17 binge drank within the past month. Roughly, 2 million people used methamphetamine in 2019, and it's estimated that about 1 million people experienced a methamphetamine use disorder.
There are young girls and women reflected in this data. What happens if they become pregnant?
There are polarizing views that won't be altered through an argument across the dinner table. Everyone who has uncompromising opinions believes that they are right and will stand by that conviction as if it were fact, because for them, it is fact.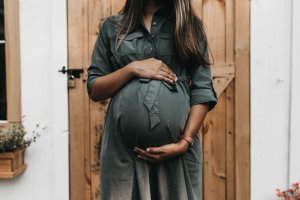 Somewhere in the middle is the reality that all of us must live—a place where, ideally, a person can be safe from judgement, shame, and stigma. Perhaps, a location where concessions are made and people work together to address the reality that faces us all.
There is already stigma surrounding alcohol and substance misuse as it is. But when you add the additional stigma of being a pregnant woman, and perhaps a woman battling substance misuse who desires to terminate her pregnancy, the emotional weight can be too heavy of a burden to carry.
Statistics on pregnant women with a substance use disorder (SUD):
It's estimated that 5% of pregnant women use one or more substances that are addictive.
Routine use of some substances may cause neonatal abstinence syndrome (NAS). This causes the infant to go through withdrawal at birth.
Use of barbiturates, caffeine, alcohol, and benzodiazepines may cause withdrawal symptoms in the infant at birth.
Substances used, length of time, and the cadence of use determines the severity of the withdrawal that the infant experiences.
Although the statistics are provided to illustrate the reality of this challenge, some believe that a black-and-white-apply-to-all response can be the solution to "save" everyone. And that rarely, if at all, is the case. The reality is that an SUD is a disease that impacts brain function.
In the middle sits a woman struggling with substance use disorder or alcohol use disorder and is pregnant now. It's just her. She isn't a statistic or a scenario. She is a woman who needs help.
If you're struggling with substance misuse, there are resources for you. AAC is an inclusive and compassionate provider of care for all under licensed medical professionals. You're not alone. Please reach out to get the help that you need.