Transgender Awareness Week
In addition to Thanksgiving and Veteran's Day, November is home to Transgender Awareness week, which is observed between the 13th-19th of this month. The purpose is to address the issues faced by the transgender community, in addition to raising visibility about them as well. And visibility is definitely needed. Misinformation, as well as limited information and research contributes to many of the obstacles the community faces. The week culminates with Transgender Day of Remembrance on the 20th, which is a day of observance and honor for the memory of lives lost due to violence against transgender individuals.
Community, Statistics & Help
Facing violence is one of many issues impacting transgender people, as substance misuse is another hurdle effecting individuals within the LGBTQ+ community. Struggling to be yourself in a society that may not accept you, may contribute to alcoholism, substance misuse, and even suicidal ideation.
Statistics:
Transgender individuals experience addiction almost 4 times the rate of their cisgender (an individual whose gender identity matches their birth sex) counterparts.
LGBTQ+ individuals who have been discriminated against due to their gender identity, sexual orientation, and/or race are 4 times more inclined to develop a substance use disorder than those individuals who were not discriminated against.
American Addiction Centers (AAC), the nationwide leader in addiction treatment, provides inpatient and outpatient care in a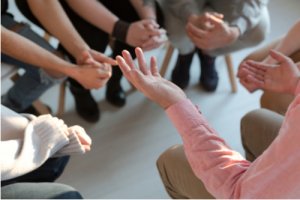 supportive and inclusive environment. We even offer specialized programs geared towards the needs, cares, and concerns of the LGBTQ+ community. If you're battling a substance use disorder or an alcohol use disorder, know that help is here for you.
Transgender Individuals & Substance Misuse
Although transgender people are grouped with lesbians, gay men, bisexuals, and those who identify themselves as queer or questioning under the acronym LGBTQ+, they face their own set of unique obstacles that lesbians, gay men, bisexuals, and others don't face.
About 1.4 million adults in the U.S. identify as transgender, which is only a fraction of the 25 million adults worldwide who identify the same.
Transgender individuals have a different gender identity than the one assigned to them at birth.
Studies suggest transgender people experience:
Economic/social exclusion/marginalization, inclusive of discrimination, prejudice, stigma, violence, and unemployment, all of which impact their well-being and health.
Research amongst those who are transgender has documented high prevalence of:
Sexually transmitted infections, including HIV.
Substance use/misuse.
Mental health problems.
Psychological distress.
Barriers to adequate health care.
Suicide.
Those in the transgender community "are more likely to be victims of murder and assault than any other minority group," according to an article in The New Republic. The article goes on to say that 25% of transgender individuals are physically attacked and nearly 50% of "transgender teenagers attempt suicide."
Many of the statistics and tragedies in publications may appear to be bleak, and they are. To be excluded and marginalized from the rest of society for simply being yourself is demoralizing. To be physically attacked and murdered for existing is barbaric. It places an enormous and unnecessary emotional burden on the shoulders of people who just want to live, thrive, and pursue their own happiness. No individual can escape the human condition, but we all can contribute to making it better for all of us. So, there is hope.
The more visibility that transgender people receive, the more we will all learn from each other. And the more inclusive all of our lives will be. And although this may feel more idealistic than realistic, it's a goal worth aiming for, even if we miss the target multiple times. That's why we have Transgender Awareness Week and Transgender Day of Remembrance.
And if the emotional burdens have led to a struggle with alcohol or with drugs, you're not alone. AAC is here to help you to achieve long-term sobriety and to live a healthy and productive life.