What Should I Bring to Rehab… and Not Bring?
Plans are in place. You're on your way to recovery by opting for residential treatment to help get you there. There's so much going through your head as you embark on this journey. So let's lessen the load by addressing one aspect.
What do you bring with you to rehab?
The short answer is as little as possible. Yet, there are essentials to pack. Conversely, there are items to leave behind. Sometimes, the facility provides a guide to both ends. But at all times, the approach is: less is best. That said, you will be living at the recovery center. So you'll need the fundamentals.
Packing Punch List  
The Basics
Items include toothbrush, toothpaste, mouthwash, comb/brush, shampoo, deodorant, soap, feminine hygiene products and shaving cream, Toiletries should be sealed and unopened. Bring enough to last 30 days. Check the ingredients to ensure nothing contains alcohol, such as mouthwash. It's also wise to have an extra pair of eyeglasses with you and, ideally, a copy of your prescription.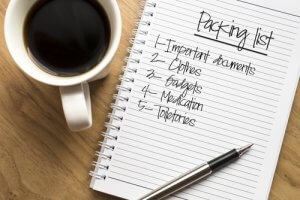 Questions to ask: Do you need your own pillow, towels, linens, blanket? Can you bring a hairdryer? What are the guidelines about bringing disposable or electric razors for shaving?
Clothing
Take daily essentials, such as pajamas, robe, shower shoes, undergarments, socks, pants/shorts, shirts/blouses and shoes. Casual and comfortable is the motif. For recreation/fitness, bring gym shorts, tee shirts, sweats, sneakers, swimwear, walking/hiking shoes. For the outdoors, depending on the climate, add sweater/sweatshirt, jacket, rain gear, head covering and sunscreen.
How much should you bring? Typically, there are laundry facilities onsite or arrangements to do wash locally. For that reason, all you need is enough for 7-10 days, e.g., several tops and bottoms. Stick to the minimum because of space and storage constraints.
Questions to ask: Is there a dress code? What weather conditions can you expect and are there special items to take for that climate? Do you need a more formal outfit for religious services or special occasions? Are laundry machines coin operated? If so, bring rolls of coins and small bills for change machines. Do you need to bring laundry detergent?
Medication
Take your prescription medication in unopened original containers, clearly labeled with dosage instructions. The facility typically stores these meds for you and administers them. Make a list of these items with prescribers' and pharmacy names, Rx numbers and dosage information as a backup. A week before leaving, ensure you have a new 30-day supply and refills for all of your meds.
Questions to ask: Are specific OTC medications acceptable, including vitamins? Ask about them by name and dosage to determine if they are allowed. If so, bring them in new, unopened containers with original labels.
Money and more
For spending money, bring $50-100. Also take a credit/debit card, official identification (e.g., driver's license) and your insurance card(s). Make a list of these with the important information on them as a backup.
Questions to ask: Do you need a checkbook/checks? Will monetary items be stored in safekeeping for you along with your other important documents?
Electronics
Recovery centers have their own set of guidelines about what you can take with you and when they can be used. Devices in this category include cellphone, laptop, tablet, e-book reader/Kindle, music player/iPod.
Questions to ask: Inquire about all of the above along with policies for using them to determine if and what you want to bring.
Miscellaneous
This category includes reading materials, notebook, pens, letter writing paper and envelopes along with postage, list of contacts with addresses and telephone numbers. Bring photos of your loved ones. Consider adding a telephone calling card in case no cellphones are allowed or reception is poor.
Questions to ask: What are guidelines for smoking and e-cigarettes/vaping? Generally you can bring traditional cigarettes in unopened packs or cartons,
What Not to Bring to Rehab
All recovery centers ban alcoholic beverages and illicit drugs. They also prohibit suggestive/revealing clothing and pornography. Weapons, including pocket knives, should stay at home, as should your valuables as well as food, snacks and drinks of all kinds.
Information from several facilities serves as a guide here. Greenhouse Treatment Center, Dallas, notes: "We ask that you do not bring any of the following items: outside food or drink, suggestive clothing, illicit drugs or alcohol." Sunrise House, in Sussex County in New Jersey, does the same. "Sunrise House asks that patients not bring food to the facility. Our chef provides all means, and there are several vending machines dispensing snacks, non-alcoholic beverages, and gum." Other items that are not permitted there include:  large electronic devices, such as televisions or gaming consoles; any opened toiletries, tobacco products, or foods; and revealing clothing." Laguna Treatment Hospital in Orange County in California, repeats this information and adds: "For your safety, please do NOT bring your own vape, as we don't know what substances might be in the vape and it may impact your treatment course. Vape juice is available for purchase and the facility."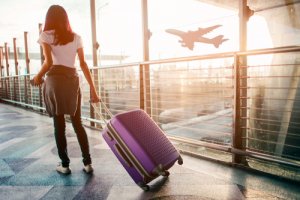 Oops… Don't Forget
Make arrangements for your mail to be temporarily held at the post office or picked up by someone during your time in treatment. With all of the things going on, be sure to have pets cared for in your absence. It also would be advisable for someone to have access to your home to check on it while you are away. Knowing how to prepare for this meaningful step in your life should help set your mind at ease and enhance your comfort level.