What to Know Before Asking for Time Off Work for Treatment
It can be nerve wracking to ask your boss for time off for treatment, but it's also necessary for your physical and mental health. It'll be much worse for your job if you don't seek treatment, but more importantly, worse for you. Your workplace should respect that and accommodate your health needs.
Do you have to tell your supervisors? You don't have to tell anyone anything, but it may be in your best interest to tell your supervisor the truth. Signs of addiction are often less subtle than people believe. Your boss and coworkers may have picked up on these signs and be aware of your addiction. It may even bring them relief to know that you're doing what's best for your well-being. 
Job Protection
Start with your HR department. Check your workplace policy and see if your company qualifies for the Family and Medical Leave Act. The FMLA allows employees 3 months of unpaid leave for addiction treatment annually. 
If your workplace does qualify, HR can guide you through filing the paperwork. You will also need a written note from a specialist to verify that you are seeking treatment. 
The Americans with Disabilities Act also provides some protections. Alcoholism is considered a disability under the ADA. However, the same legislation does not cover ongoing illegal drug use and would therefore not offer much job protection in that regard. 
How to Prepare for a Conversation with your Boss
If your workplace is too small for an HR department or doesn't qualify for FMLA, you may want to tell your boss about your predicament. Be honest about your reasons for seeking treatment and ask them what you can do to both protect your job and get the help that you need.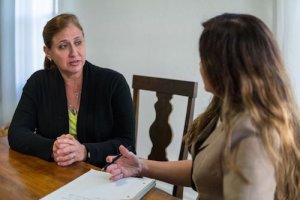 Remember, you don't need to be ashamed. 
It's an admirable choice to advocate for yourself, and it takes a lot of courage to seek treatment. However, if you are truly uncomfortable sharing details, you can explain it as a medical emergency and decline to elaborate. 
You're not necessarily limited to a certain number of days' leave. Programs can be anywhere from 3 weeks to a year, so that's something to keep in mind if your boss is receptive.
What if I can't get approval to go to inpatient rehab?
If you can't find a way to balance both your job and residential treatment, you can look into an outpatient approach, which are best suited to those with more manageable addictions. These programs often involve counseling and group therapy a few hours a day or week. 
Conclusion
Be familiar with your company's sick leave policy, and keep records of any emails or documents between you and managers. As scary as it may be, it's important to advocate for yourself in your workplace and be proud that you're taking this next step toward getting healthy.
Research Sources
Reading Fact Sheets. (2019) Family and Medical Leave Act – Wage and Hour Division (WHD) – U.S. Department of Labor. Retrieved June 30, 2019, from https://www.dol.gov/whd/fmla/

Last, First. (2019) ADA.gov homepage. Retrieved June 30, 2019, from https://www.ada.gov/