Why Alcohol Abuse is on the Rise for Women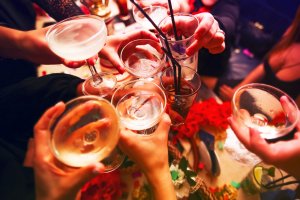 The number of men with alcoholism far exceeds the number of women with alcoholism (which is about half that of  men), but studies show that women are catching up.1 Numbers support a steady uptick in the rates of female drinking, as well as increased drinking in Americans overall.2-3 So, why is alcohol consumption on the rise for women? Let's take a look at some contributing factors.
Biology
On average, women weigh less than men and have a different threshold for "problem drinking." The National Institute on Alcohol Abuse and Alcoholism (NIAAA) defines "at-risk" or "heavy" drinking as exceeding:
Men: Four drinks in a day / Fourteen weekly
Women: Three drinks in a day / Seven weekly
According to the NIAAA, 1 in 4 people who exceed these guidelines can already be described as having a "alcohol use disorder."4 It seems straightforward, but even those not yet suffering from this disorder are on a slippery slope,  as this manner of drinking places them at greater risk for developing alcoholism, alcohol abuse, and other problems.
Social
At dinner, one drink can quickly slide into a second. Possibly followed by a third and fourth after dinner. There's often more of a stigma around drinking alone when compared to social drinking, which has become a part of the American culture. A person may feel a certain obligation to continue drinking when around others. They may even feel the pressure to match their company drink-for-drink, and this behavior can contribute to problem drinking if the woman in question is trying to match her male companion's drinking rate.
External Stressors
Women are consistently found to be more at risk for mood disorders than men, and a 2010 study found that women were almost twice as likely to experience depression.5 The modern lifestyle of women is chock-full of stressors. Many women feel the pressure to "have it all" and maintain a successful career while also being the perfect mother and wife. Studies show a connection between higher stress in women and their changing gender role, especially in the professional realm.6 For some women, accumulated stress can lead to alcohol reliance as a coping mechanism and a way to escape from reality.
Conclusion
Research shows that alcohol may be more detrimental to women's health than it is for men. According to NIAAA, excessive drinking puts women at higher risk for conditions such as liver damage, heart disease, brain damage, and breast cancer. Drinking during pregnancy also carries significant risks, and prenatal exposure to alcohol can result in physical, cognitive, and behavioral problems in children.7
That's not to say excessive drinking is healthy for men, either, and the rate of men abusing alcohol is substantially higher than that of women. However, that gender gap is closing, and this incremental change may be partly due to biological differences, cultural shifts, and increased stressors.
Research Sources
Substance Abuse and Mental Health Services Administration. (2016). Results from the 2015 National Survey on Drug Use and Health.
White, A., Castle, I.J., Chen, C., Shirley, M., Roach, D., & Hingson, R. (2015). Converging patterns of alcohol use and related outcomes among females and males in the United States, 2002 to 2012. Alcoholism: Clinical and Experimental Research, 39(9), 1712–1726.
Erol, A., & Karpyak, V.M. (2015). Sex and gender-related differences in alcohol use and its consequences: Contemporary knowledge and future research considerations. Drug and Alcohol Dependence, 156, 1–13.
National Institute on Alcohol Abuse and Alcoholism. (2016). Rethinking Drinking: Alcohol and Your Health.
Albert, Paul R. (2015). Why Is Depression More Prevalent in Women? Journal of Psychiatry & Neuroscience, 40(4), 219–21.
Mayor, Eric. (2015). Gender Roles and Traits in Stress and Health. Frontiers in Psychology, 6(779), 1-7.
National Institute on Alcohol Abuse and Alcoholism. (2019). Women and Alcohol.