The Big List of Narcotic Drugs
Narcotics have historically been used to refer to a number of mind-altering substances as well as to provide a broad legal designation for a range of illicit drugs; today, the Drug Enforcement Administration (DEA) more specifically defines narcotic drugs as those that relieve pain and dull the senses, and the use of the word is most commonly associated with opioid drugs.
The naturally occurring opiates (plant alkaloids derived from the opium poppy) as well as synthetic (man-made) and semisynthetic opioids are considered to be narcotic drugs, which include both legally prescribed and illicit varieties. Opioids not only diminish the perception of pain signaling in the central nervous system but also produce rewarding, euphoric effects, making them targets for abuse and highly addictive.
Commonly Abused Narcotics & Opioids
Below is a brief list of some of the more widely-known narcotics and opioids drugs: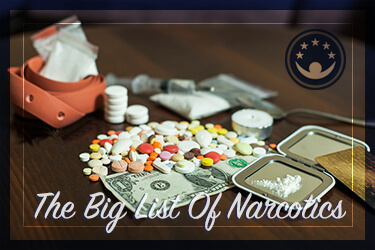 Opium
Heroin
Codeine
Oxycodone
Hydrocodone
Tramadol
Morphine
Hydromorphone
Carfentanil
The United States is in the midst of an opioid epidemic. The American Society of Addiction Medicine (ASAM) indicates that close to 3 million people battled opioid addiction (to either heroin or prescription painkillers) in 2015. More than 60 percent of the record-high overdose deaths in 2015 involved an opioid drug, and 91 people in the US die from an opioid overdose daily, the Centers for Disease Control and Prevention (CDC) reports. Also in 2015, roughly 300 million prescriptions were dispensed for narcotic pain medications around the world, and Americans consumed 80 percent of them.
Opioid abuse, addiction, and overdose are considered serious public health concerns in the United States. Here we'll provide more detail about some of the more commonly discussed prescription painkillers and illicit narcotic drugs.
Find Drug Abuse Treatment Centers Near You