Drug and Alcohol Rehab Treatment Centers in Tampa, Florida
Instantly find your coverage information.
We'll be able to tell you if your insurance provider is in network with an American Addiction Centers treatment facility.
* These fields are required

Tampa rehabs are the perfect solution if you or someone you love is in need of drug or alcohol addiction treatment in Florida state. Whether you are just exploring Tampa rehab options, would like to verify whether insurance can cover all or part of the cost of rehab, or just have questions, let American Addiction Centers be your first stop on the road to long-term addiction recovery at our drug rehab in Tampa.
Where is Addiction Treatment Located in Tampa?
There are several rehab centers in Tampa, Florida. You can find a drug addiction treatment center within the metropolitan city of Tampa or the Tampa Bay Area in general. AAC's River Oaks Treatment Center is conveniently located at 12012 Boyette Rd. in Tampa. Situated in a quiet area but close to shopping and highways, River Oaks is an ideal place to begin drug rehab in Tampa, FL.
Call us at to learn more.
What is the Cost of Rehab in Tampa?
The cost of drug rehab in Tampa varies between addiction centers, clients, and services, but you can count on most treatment centers in Tampa to accept some form of private or state-funded insurance.
Florida has 726 substance abuse treatment centers, and 71.8 % accept private health insurance. There are 25.5 % that accept Medicare, and 38.4 % accept Medicaid. Even if you don't have any insurance, 61.6 % of drug rehabs in Florida will work out a sliding fee scale, and 38.8 % may provide treatment at no charge or only charge a small fee.3
AAC's River Oaks Treatment Center works with many well-known private insurance providers, such as Cigna, Aetna, Kaiser Permanente, New Directions, and United Healthcare.
Does Insurance Cover Rehab in Tampa, Florida?
At American Addiction Centers in Tampa, Florida, you have several payment and insurance options. River Oaks Treatment Center in Tampa accepts various private insurance plans. We are also in-network with well-known insurance companies such as Anthem, Humana, Kaiser Permanente, and United Health. If you don't happen to have insurance, AAC offers various other payment plan options to those interested in attending treatment at any of our facilities. Consider exploring the possibility of state funded drug rehab programs, free rehab options, and free drug detox options.
Do Rehab Centers in Tampa Treat Alcohol and Drug Addiction?
Yes, drug treatment centers in Tampa treat most substance use disorders and are generally equipped to manage addiction to all types of drugs. While some treatment centers focus on treating populations with a particular type of addiction, you can generally count on most rehabs treating whatever substances you are struggling with.
River Oaks Treatment Center in Tampa helps patients recover from a variety of drug and alcohol abuse issues along with any pertinent co-occurring mental health conditions. This way, patients can get the help they need for their substance abuse issues while also addressing any underlying mental health issues that may act as catalysts in sustaining their addiction.
Other Ways to Get Addiction Help in Tampa
Reach out for additional help by connecting with any of the resources below. Some of these may not apply to you, so choose the ones that are best suited for your situation:
Find Drug & Alcohol Addiction Treatment in Tampa, Florida
American Addiction Centers boasts two Florida rehab centers: Recovery First and River Oaks Treatment Center. To find out more about these addiction treatment programs in Florida, or to access other free resources, be sure to call our admissions navigators today.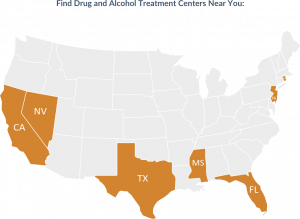 FAQs About Drug & Alcohol Rehab Treatment in Florida