Dallas Texas Addiction Treatment Center
Nestled in
North Texas
, Dallas is a bright and vibrant city that's home to over a million people. Unfortunately, with a population so large, it comes as no surprise that drug abuse and addiction are a problem that drives the need for substance abuse programs in Dallas. Drug rehab is one way to overcome these issues, and luckily,
American Addiction Centers has a location just outside the city
.
Statistics about Dallas
Dallas, the 9th largest city, is used by the Los Zetas Cartel to transport methamphetamine, marijuana, heroin, and cocaine throughout the country.1 The high availability of drugs has led to numerous issues with substance abuse. Among homeless populations in Dallas, synthetic cannabinoid abuse and addiction were a big problem in 2017.1 In addition, cocaine became the fourth biggest drug threat in Dallas (it was previously fifth).1
According to the Dallas Field Division of the Drug and Enforcement Agency, the availability of controlled prescription drugs, marijuana, and methamphetamine in 2017 was on the rise.1 In the same year (2017) cocaine became the fourth biggest drug threat in Dallas (it was previously fifth).1
In the Dallas/Fort Worth area in 2017, there were 1,360 opioid-related calls to the Texas Poison Center Network.3 This was the second-highest number in the state behind Houston.3
In the North Texas region, 25.5% of students in grades 7 through 12 used alcohol in 2016,1 13.1% used marijuana, and 10% used prescription drugs.2
Why Dallas?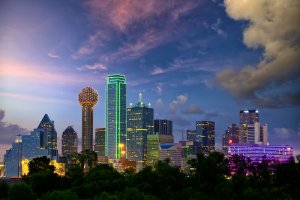 Dallas is an up-and-coming city that has plenty to do, see, and experience. Many people love checking out the
Dallas Arboretum and Botanical Garden
, which hosts nearly 1 million visitors each year and has more than 20 gardens to peruse. If you're more into history instead of flowers, another prime destination is the
John F. Kennedy Memorial Plaza
, which contains a monument dedicated in the assassinated president's name.
Of course, live music is also one of the most popular pastimes in Dallas. Neighborhoods like Deep Ellum, Oak Cliff, and South Dallas all offer both local and national acts to satiate your ears. If getting outdoors is more your style, you'll love checking out the Oak Cliff Nature Preserve, Cedar Ridge Preserve, and Piedmont Ridge Trail, all of which boast stunning views and the chance to immerse yourself on a hike in a natural setting.
With its location in Northern Texas, Dallas has pleasant and moderate weather nearly year-round. The average annual high is 76.6 degrees Fahrenheit, with the warmest months being July and August. The average annual low is 55.8 degrees Fahrenheit, with December and January being the coldest months.2
Getting around Dallas is easy thanks to Dallas Area Rapid Transit (DART). This transit authority offers 130 bus routes, 4 rail lines, a streetcar, a trolley, and a commuter rail system that can take you wherever you need to go in the city
Why Choose American Addiction Centers?
American Addiction Centers offers a nationwide network of facilities, an alumni support system, quality care, and a 90-day promise. If a person relapses after completing 90 days of treatment at an AAC program, they can return for 30 days of complimentary treatment.
Additionally, American Addiction Centers alumni from across the country host fun gatherings and events while alumni coordinators check-in regularly to ensure those recovering from substance abuse benefit from continued support.
Start Your Substance Abuse Recovery Today
At American Addictions Centers we focus our treatments around healing the body, mind, and spirit. At our treatment centers we offer a wide range of treatment options and different levels of care to best fit our patients needs on their road to recovery.
You owe it to yourself to work with our experienced team of doctors, clinicians, and counselors to create a one-of-a-kind, constantly evolving treatment plan designed to help you get the most out of your recovery experience. Our goal is to treat the whole person, and that means addressing co-occurring mental illness, physical wellness, social issues, and more.
Greenhouse Treatment Center
, our Dallas substance abuse treatment facility, prides itself on its luxurious setting and high-end amenities, offered to all residential patients who come to start their path to recovery. Located in a former Neiman Marcus spa, Greenhouse provides its patients with indoor and outdoor pools, a fully-stocked fitness center with a proctored wellness program, and three meals a day crafted by expert executive chefs.
More Ways to Get Help
If you need help for substance abuse treatment in Dallas, consider the following resources:
Greater Dallas Council on Alcohol and Drug Abuse, provides free HIV testing, case management, behavioral interventions, and more for people in the Dallas area.
Dallas Area Narcotics Anonymous, the Dallas chapter of Narcotics Anonymous (NA), where you'll be able to meet with other drug users and work through the 12 steps of recovery.
Dallas AA, the Dallas chapter of Alcoholics Anonymous, where you'll be able to meet with other alcohol users and work through the 12 steps of recovery.
Texas Al-Anon/Alateen, an Alcoholics Anonymous (AA) group specifically for the loved ones of those affected by alcohol abuse. Alateen is a special component of the group for those under 20 years of age.
Dallas Area Drug Prevention Partnership, a group that works to fight against drug use among young people in Dallas.
Region 3 Prevention Resource Center, a North Texas organization that focuses on preventing prescription drug, marijuana, and alcohol abuse in the community.
Sources:
S. Department of Justice, Drug Enforcement Administration. (2018). 2018 national drug threat assessment.
Region 3 Prevention Resource Center, The Council on Alcohol & Drugs. (2018). Annual update of North Texas substance abuse trends and gaps in service. Regional Needs Assessment, Prevention Resource Center Region 3.
Hellerstedt, J. (2018). Opioid & substance abuse prevalence. Presentation to the House Select Committee on Opioids & Substance Abuse.