Addiction & Substance Abuse in Lawyers: Statistics to Know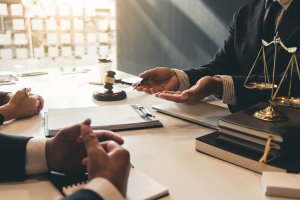 The long work hours and difficult court cases lawyers face from day to day can put them at risk for the abuse of both legal and illegal substances. The number of legal workers who resort to drugs and alcohol is a continuous cause for concern.
Before we can dive into the statistics surrounding substance abuse in lawyers, let's take a look at some stats about why so many of them get to that point in the first place.
Ways to Get in Contact With Us
If you believe you or someone you love may be struggling with addiction, let us hear your story and help you determine a path to treatment.
There are a variety of confidential, free, and no obligation ways to get in contact with us to learn more about treatment.
Depression Statistics
Depression has been reported to affect approximately 16 million American adults, which equals about 6.7% of the U.S. population.¹ About half of those diagnosed with depression also struggle with some form of substance abuse. While these numbers are significant, the stats around the issue for lawyers are even more shocking.
More than 45% of attorneys experience depression during their career in the legal field.² Of those individuals, nearly 12% of them reported having suicidal thoughts at least once. The major issues of substance abuse in attorneys can be directly attributed to many of the same thoughts and feelings related to depression.
Alcohol Addiction Statistics
A recent study conducted by the ABA Commission on Lawyer Assistance Programs and the Hazelden Betty Ford Foundation showed that nearly 21% of lawyers and others in legal professions were considered problem drinkers.³ As more specific questions were relayed to the surveyed participants, that number jumped even higher to over 36% of attorneys struggling with alcohol abuse.
Nearly half of the lawyers in the study stated that the drinking issues began within their first 15 years in the industry, including their time in law school.³
Prescription & Illicit Drug Statistics
Many issues surrounding prescription drug abuse have risen for legal professionals due to the easy access and legality of these substances. Unlike illegal alternatives, prescriptions are obtainable with a note from a doctor.
While this issue isn't as common as alcohol addiction, 9% of attorneys have been found to struggle with prescription drug abuse.4 They're commonly used by lawyers who are trying to stay up later to complete their work or others to sleep at night as a means of stress relief. The biggest problems arise as individuals mix alcohol with prescriptions, leading to additional risks of dependence and even overdose.
And though reported numbers seem to rise and fall as time goes on, statistics about illicit drug use are much less reliable due to the simple fact that these substances are illegal. Most people who are taking them, including lawyers, aren't willing to admit it. But a large number of legal professionals still resort to things like cocaine, heroin, and others for relief from their depression and the weight of their job.
Treatment for Substance Abuse in Lawyers
If you or someone you know is struggling with addiction to alcohol or drugs that has resulted from depression or anxiety, there are numerous treatment options available. Treatment centers can be found all over the country with specialized assistance for substance abuse in attorneys.
Read the Infographic

Sources
Anxiety and Depression Association of America. About ADAA Facts & Statistics.
Indiana Judicial Branch. About JLAP.
Krill PR, Johnson R, and Albert L. February 2016. The Prevalence of Substance Use and Other Mental Health Concerns Among American Attorneys.
Addictions.com Medical Review. Silent Suffering In The Courtroom: Lawyers Substance Abuse