How Long Is Alcohol Rehab? (Average Alcohol Rehab & Detox Duration)
As a general rule, longer periods of time spent in addiction treatment are associated with higher success rates.1 However, treatment doesn't necessarily have to be spent exclusively at an inpatient treatment center, as there are several treatment settings available and short-term stays in rehab can be supplemented by other forms of treatment.
This page will go over the different treatment types for alcohol addiction, factors that influence the duration of alcohol treatment needed, cost considerations, and other things to think about when you are seeking help for an alcohol use disorder.
Treatment Types for Alcoholism
When seeking treatment for an alcohol use disorder (AUD), there are numerous levels of treatment to consider.
Treatment often starts with medical detoxification. Medically managed detox is the process by which a person withdraws from alcohol under the supervision of medical professionals using a set of interventions designed to keep the patient safe and comfortable.2
After detox, people may go to inpatient treatment, outpatient treatment, or other programs, depending on their specific needs.3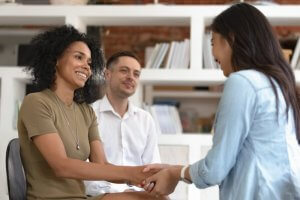 It is important that someone's treatment for AUD should involve more than just detox, as long-term success often requires addressing the underlying factors that contribute to their drinking.1 This primarily involves behavioral therapy in either a group or individual format. The most common forms of behavioral therapy are:4
Cognitive-behavioral therapy (CBT), which is an approach that helps people recognize unhealthy thought and behavioral patterns and replace them with positive coping strategies.5
Contingency management, which is a strategy in which people are given incentives for meeting therapy goals, such as getting movie tickets for submitting a certain number of negative urine drug screens.6
Motivational Interviewing, which is a strategy that involves patients outlining their goals to help them see how alcohol use is preventing them from achieving them. The process raises the patient's self-esteem, engages them in their treatment, and encourages them to become invested in their own recovery.7
Family behavior therapy, which helps the whole family recognize behaviors and interactions that contribute to alcohol use and learn ways to help the person with AUD stay in recovery.8
12-step facilitation therapy, which introduces the concepts of 12-Step mutual support groups, such as AA (Alcoholics Anonymous) during rehabilitation treatment. This encourages people to stay in 12-Step programs after formal treatment ends for ongoing recovery support.9
In addition, oral medications are sometimes used alongside behavioral therapy to treat AUD. These medications include:10
Acamprosate, which may relieve some of the symptoms of protracted alcohol withdrawal.
Naltrexone, which blocks the effects of alcohol on the body and helps people maintain abstinence by disincentivizing use. Naltrexone can also be administered as an injectable medication with an extended-release formula.
Disulfiram, which causes a racing heart, vomiting, flushing, nausea, and breathing issues if a person uses alcohol while taking it. The fear of these effects may help people to resist using alcohol.
How Long Does Alcohol Detox Take?
Detox for alcohol is usually recommended at the inpatient level of care for at least the first 24 hours due to the unpredictable and sometimes fatal consequences of alcohol withdrawal. However, numerous factors will impact the length and severity of alcohol withdrawal, including:2,11
How long the person has been drinking alcohol.
How much alcohol the person has been drinking.
When they last drank alcohol.
Whether the patient has been engaging in polysubstance misuse (using drugs and drinking alcohol concurrently).
Whether they have experienced severe alcohol withdrawal in the past.
Although the length of alcohol detox varies a great deal from one person to another, typically the first symptoms of alcohol withdrawal start around 6–12 hours after the last use of alcohol. More serious symptoms, like hallucinations, might begin around 12–24 hours after the last drink.12
Dangerous symptoms like seizures that indicate severe alcohol withdrawal—known as delirium tremens (DTs)—may start as late as 48-72 hours after cessation.12
How Long Does Alcohol Rehab Take?
The ideal length of rehab varies a lot from person to person. The National Institute on Drug Abuse (NIDA) states that a minimum of 90 days in treatment is needed for most people with a substance use disorder (SUD),1 though what constitutes addiction treatment is a broad category that encompasses more than rehab.
Many people in addiction treatment go through multiple levels of care that vary in intensity.13 For example, someone may undergo detox, followed by a month in inpatient rehab, before returning home and visiting the facility several times a week for outpatient care.
Making the initial decision between inpatient vs. outpatient rehab depends on factors such as the patient's physical health, mental health disorders, and past treatment history.2,13
Inpatient Alcohol Rehab
In an inpatient program, patients benefit from 24/7 oversight and medical supervision and will likely attend a combination of group and individual counseling sessions.3
A patient's length of stay in an inpatient facility typically ranges between months to a year.13
Outpatient Alcohol Rehab
Outpatient alcohol rehab offers many of the same forms of treatment as inpatient therapy, but allows patients to return home at night and on weekends. There are multiple levels of outpatient care that may be offered by addiction treatment facilities:14
Standard outpatient programs are typically low in intensity and may only require that patients meet a few hours per week.
Intensive outpatient programs (IOPs) meet several days per week, with a weekly total of between 9 and 20 hours.
Partial hospitalization programs (PHPs)—often called "day treatment" programs meet for a minimum of 20 hours per week.
Patient's total length of stay in any of these programs vary based on individual factors and progress in treatment, but outpatient care typically lasts between 2 months and a year. It is common for patients to transfer to differing levels of care as their needs progress.13
Does Length of Stay Affect Cost?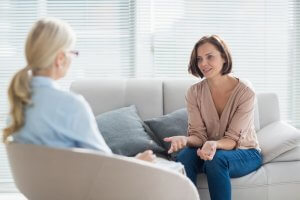 Due to federal mandates, most insurers are required to provide coverage for both inpatient and outpatient care for addiction treatment; however, the extent of this coverage depends on the individual insurance policy.15 For example, an insurance company may only authorize a certain number of days for treatment, which could impact your length of stay.
There are also many other variable factors that impact the out-of-pocket costs when using insurance to pay for alcohol addiction treatment, such as the:
Annual deductible.
Copayment or co-insurance rates.
Out-of-pocket limit.
For patients without insurance, some facilities offer financing or may adjust the cost of treatment based on the patient's level of income.
Benefits of Longer Alcohol Rehab Programs
AUD is a complex condition,16 and confronting the physiological, psychological, and social factors that contribute to someone's addiction cannot be done overnight. Research has shown that longer lengths of stay in addiction treatment are associated with more successful treatment outcomes.1
However, in cases where a long-term stay in an inpatient treatment facility may not be realistic, any treatment is better than no treatment. Those that cannot afford a long stay in rehab can supplement rehab with peer support or community programs, building and maintaining a social network that is conducive to sobriety.
Call our helpline at to learn about how treatment at one of the various American Addiction Centers' (AAC) facilities around the country can help you or a loved one get sober and build the skills to remain in recovery.