Inpatient Alcohol Rehab & Detox Treatment Centers Near Me
Inpatient alcohol treatment settings provide 24/7 supervised addiction care in an immersive and supportive environment for those recovering from alcohol use disorders. Inpatient alcohol treatment can help individuals who are struggling with alcohol addiction through a strategic combination of various therapeutic interventions.
What you will learn:
Critical details about inpatient alcohol treatment, including detox and withdrawal management.
What to expect in alcohol rehab.
How to find the best-fitting alcohol treatment center for your specific needs.
What is Inpatient Treatment for Alcohol?
Inpatient rehab for alcohol abuse is an intensive form of substance use disorder treatment where patients reside in an addiction treatment facility as they undergo specific types of therapies. Patients in inpatient alcohol rehab eat their meals and sleep in their chosen facility, and commonly have the option to invite loved ones to visit them during designated times of the day or week.
The specific range of therapies used in inpatient rehab may differ between treatment centers and according to various patient needs but will likely fit within an organized daily schedule.
With their robust support and daily structure, inpatient alcohol treatment settings offer a relatively intensive approach to treating alcohol addiction. In contrast, outpatient alcohol treatment allows patients to attend substance abuse treatment with the option to live at home, pursue educational endeavors, or work. Beyond these potential treatment details, length of stay for any type of treatment setting may also be important. In fact, studies support lengthier courses of treatment ­– 90 days or more – for more favorable treatment outcomes.1
There are varying levels of inpatient rehab for alcohol abuse, and many residential rehab treatment centers treat alcohol addiction simultaneously with addiction to other substances or co-occurring mental health conditions. Inpatient alcohol rehab programs may be most successful when they are customized for each individual by implementing a variety of therapeutic interventions for each patient's specific needs.2
Behavioral treatments focus on modifying unhealthy drinking behaviors through behavioral therapies led by licensed counselors or therapists. Mutual-support group participation could entail attendance of a 12-step meeting such as Alcoholics Anonymous (AA). In Alcoholics Anonymous meetings (and other 12-step meetings) members of this confidential group can receive support from their peers who are also in recovery from an alcohol use disorder or other addictions.
Three medications are currently approved for the treatment of alcohol dependence in the United States: Naltrexone, Acamprosate, and Disulfiram. These three medications are best used in combination with behavioral therapies. Each of these medications must be prescribed by a physician and, through different medicinal mechanisms, can help you decrease your alcohol use and prevent relapse.3
What Happens in Inpatient Alcohol Rehab?
Upon arrival at an inpatient rehab, you'll be greeted by a team member who may walk you through a medical screening, take your vitals, and assess your overall state of health. You'll likely meet with a psychiatrist or other addiction medicine professional, who will determine whether you have any pertinent co-occurring medical or psychological conditions. Doing so will allow your treatment team to design a personalized treatment plan for you to follow throughout your stay in rehab.4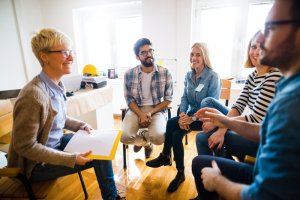 Should your risk of severe or complicated alcohol withdrawal be significant at the point of your initial assessment, your first stage of inpatient alcohol treatment may include a supervised medical detox.
After successful withdrawal management, or if you completed your medical detox from alcohol in another facility, you will transition into the remaining portion of your inpatient rehab care.
Many individual and group therapy options are offered in alcohol rehab. Depending on your customized treatment plan, your facility's range of offerings, and your needs, you may attend 12-step meetings or participate in more experiential therapies like music therapy, art therapy, or equine therapy.
As previously mentioned,  as part of a medication assisted treatment (MAT) approach, several medications may be initiated along with behavioral therapy to help you stop drinking and prevent relapse.3 Meals, bedding, and laundry services are typically provided for patients in inpatient rehab.
Inpatient Alcohol Treatment & Withdrawal Management
If someone has developed significant physical alcohol dependence and experiences alcohol withdrawal when they try to stop or limit their drinking, they may require a medical detoxification at the beginning of their inpatient alcohol rehab stay. Detoxification involves the management of any remaining acute intoxication as well as withdrawal once the body is allowed to clear itself of the toxic influence of a substance (in this case, alcohol).5
In the setting of inpatient alcohol treatment, detoxification serves to address three essential elements:3
Patient evaluation.
Stabilization
Facilitation of additional patient care (in this case, additional alcohol rehabilitation efforts)
Inpatient detoxification entails around-the-clock medical supervision, support, and observation for intoxicated individuals.3 When needed, certain medications may be administered in tandem with other medical interventions to keep people safe and comfortable during the acute alcohol withdrawal period. In this manner, the risks of withdrawal complications, such as seizures and agitation may be best managed.5
Factors that may influence a physician's determination of the need for inpatient alcohol detox include the presence of co-occurring mental health issues or other significant medical comorbidities, as well as a previous history of withdrawal seizures or other complications such as delirium tremens.5
An inpatient detox may be the most appropriate level of care for individuals at risk of severe alcohol withdrawal because they will be under care 24 hours a day with access to potentially life-saving medical interventions.
What are the Advantages of Inpatient Alcohol Addiction Treatment Programs?
When making the decision to seek treatment, people may have various subjective reasons for prioritizing inpatient or outpatient alcohol rehabilitation programs for themselves. However, in some cases, medical professionals may more strongly recommend an inpatient rather than an outpatient treatment setting based on their relative ability to more fully address patient treatment needs.
Some people may find inpatient alcohol treatment more fitting for the following reasons:
Inpatient alcohol treatment is a highly structured and immersive environment in which a person may embark on their recovery work to reconstruct their unhealthy ways of behaving and thinking.
Inpatient alcohol rehab allows for 24/7 supervision, support, and access to an intensive schedule of behavioral therapeutic programming.
Those with relatively severe alcohol use disorders, acute alcohol withdrawal risks, and/or significant mental or medical health concerns have access to on-call medical care in many inpatient alcohol rehab centers.
Inpatient rehab for alcohol abuse may provide someone a healthy amount of separation from their previous living environment. If an individual's home environment is unstable, if they lack reliable transportation or sober support required to successfully complete alcohol treatment on an outpatient basis, an inpatient treatment program may be a viable option.5
Inpatient alcohol treatment programs can address more than just alcohol use disorders. For example, many of American Addiction Centers' various addiction treatment centers treat people with co-occurring mental health conditions, offer professional and vocational services and guidance, and place emphasis on healing someone's family unit.

Are you ready to begin the process of finding and entering an inpatient treatment center for alcohol abuse? Call American Addiction Centers at .
How Long is Inpatient Alcohol Treatment & Detox?
How long someone stays in an inpatient alcohol treatment program may vary depending on various factors, such as the treatment facility program offerings, the recommendations of a treatment professional, patient insurance coverage, as well as individual patient needs and their recovery progress throughout the program (which may itself be influenced by the severity of someone's alcohol use disorder and any co-occurring mental health needs).
The length of time a patient may spend in treatment often ranges from weeks to months. Though any treatment is preferable to no treatment at all, research supports three or more months of treatment for people to significantly slow or altogether quit alcohol or other substance use, with longer periods of treatment engagement resulting in the most optimal treatment outcomes.2
What Happens After Inpatient Alcohol Treatment?
After someone leaves inpatient treatment, they may inevitably face a wide variety of stressors, triggers, and challenges that they must prepare for. Aftercare planning can help to address these post-rehab predicaments. Through aftercare planning, a patient and their treatment team can devise a realistic game plan that will help them remain accountable to and carry out their recovery goals.
At American Addiction Centers (AAC), your treatment team will work with patients prior to their discharge from rehab to create a sustainable aftercare plan. This aftercare plan is put in place to aide in the transition from a more structured treatment period back into the community and to provide guidance that will help the patient maintain their sobriety.
For example, this person may choose to enter a sober living facility, continue alcohol abuse treatment in an outpatient setting, and/or regularly attend local support group meetings. Someone's ideal continuing care plan hinges on their recovery progress, their motivation, their current health assessments, and their specific circumstances.
How to Choose the Best Inpatient Alcohol Rehab
There are various factors likely to influence someone's ideal rehab choice. For example, gender, age, insurance coverage, facility location, co-occurring medical conditions, medical/psychological assessment, and other individual needs could factor into the decision. Knowing what questions to ask rehab centers beforehand can help people make this personal decision.
Questions to ask about an inpatient alcohol rehab:
Does the facility have licensed physicians and a professional healthcare staff?
Is the facility accredited, such as with the Joint Commission, which exemplifies a treatment center's commitment to quality and healthcare safety?
Does the facility offer preventative support?
Does the facility offer medical detoxification?
Does the facility offer evidence-based treatment?
What levels of care does the facility offer?

Do Inpatient Alcohol Rehabs Help with Co-Occurring Disorders?
Yes. Many alcohol rehabs treat people with co-occurring mental health conditions or dual diagnoses such as anxiety and depression. The very presence of a mental health disorder may exacerbate a substance use disorder (and vice versa).6 People who struggle with co-occurring disorders may experience worse treatment outcomes, higher mortality and morbidity rates, greater functional impairment, and even a higher risk of suicide, homelessness, and incarceration relative to people who have either an isolated substance use disorder or mental health disorder.6 An integrated approach to simultaneously managing both conditions may lead to more effective results for long-term sobriety.
It's crucial for an inpatient alcohol rehab center to recognize and address all of the complexities that are part of a person's alcohol use disorder and customize their treatment plan accordingly, including any medical or mental health issues that need attention.2
How Much Does Inpatient Alcohol Rehab Cost?
The cost of inpatient alcohol rehab depends on someone's treatment-related needs, insurance coverage, the facility's amenities, the individual's needs, and potentially other variables. AAC accepts most major health insurance providers, such as Kaiser Permanente, Anthem Blue Cross, and Aetna to name just a few. Insurance may significantly reduce (if not completely eliminate) the costs for rehabilitation.
Inpatient Treatment Reviews