The Effects of Alcohol on Women
Health Effects of Alcohol Abuse on Women
Take Our Substance Abuse Self-Assessment
Social Effects of Alcohol Abuse on Women
Conclusions
Health Effects of Alcohol Abuse on Women
Take Our Substance Abuse Self-Assessment
Social Effects of Alcohol Abuse on Women
Conclusions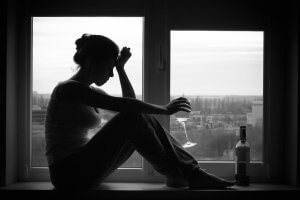 There's no denying that alcohol is a popular substance among both genders. Statistically, men and women are the most likely to engage in binge drinking in their late teenage years and early 20s, putting them at a high-risk for alcohol related problems and a lifelong dependency on alcohol.
Even though both men and women are at risk for alcohol addiction, women may be more susceptible to the negative consequences of alcohol consumption. Because they carry less water weight than men, alcohol becomes more concentrated in their blood and thus, they reach a higher blood alcohol content (BAC) level from the same number of drinks. This can lead to health problems, trauma, and other difficulties.
Health Effects of Alcohol Abuse on Women
Liver Damage: Even when drinking the same amount of alcohol as men, women are more vulnerable to alcohol-induced liver disease, alcoholic hepatitis, and liver cirrhosis.
Brain Process: Women are at greater risk for alcohol-related brain neurological issues than men. Women are also more susceptible to 'black outs', or periods of memory loss, while binge drinking.
Heart Disease: Women who drink less than two drinks a day are at a lower risk for coronary heart disease than women who drink heavily.
Breast Cancer: Alcohol can increase female hormones like estrogen, increasing the risk of hormone-receptor positive breast cancer. Consuming alcohol also increases the risk of cancer recurring after remission from early stage breast cancer.
Infertility: Heavy drinking may disrupt the menstrual cycle and result in difficulty getting pregnant or infertility. Binge drinking may also decrease libido in women.
Pregnancy Complications: Women should never drink while pregnant. Alcohol consumption during pregnancy can result in Fetal Alcohol Spectrum Disorders (FASD), miscarriage, stillbirth, or early delivery. Drinking while pregnant may also increase the likelihood of Sudden Infant Death Syndrome (SIDS).
Dehydration: Women who drink heavily are more at risk for dehydration, which can result in vomiting, diarrhea, fever, extreme sweating, and damaged skin.
Take Our Substance Abuse Self-Assessment
Take our free, 5-minute substance abuse self-assessment below if you think you or someone you love might be struggling with substance abuse. The evaluation consists of 11 yes or no questions that are intended to be used as an informational tool to assess the severity and probability of a substance use disorder. The test is free, confidential, and no personal information is needed to receive the result.
Social Effects of Alcohol Abuse on Women
Victimization: Women who consume alcohol are at a greater risk of falling victim of violence. There are strong links between alcohol consumption and intimate partner violence, and women who drink heavily are more likely to report acts of sexual victimization.
Traffic Crashes: Drinking while under the influence of alcohol greatly increases the risk of traffic accidents. While women are less likely to drive after drinking, studies suggest they are more at risk for fatality than men as their inability to perform driving tasks may be more compromised, even at the same blood alcohol content.1
Conclusions
While heavy drinking puts both genders in danger of adverse consequences, the effects of binge drinking pose a greater risk to women. If you or a loved one is suffering from a substance use disorder, it's important to seek treatment as quickly as possible.
You Might Also Be Interested In
Research Sources