Do AA and NA Replace Rehab?
If you're suffering from a substance use disorder, both rehab and 12-step programs like Alcoholics Anonymous (AA) and Narcotics Anonymous (NA) can help you get on the path to sobriety. But can programs like Alcoholics Anonymous replace rehab? After all, it would be easier just to attend meetings a few times a week rather than live in a residential treatment facility. Unfortunately, this isn't a good plan.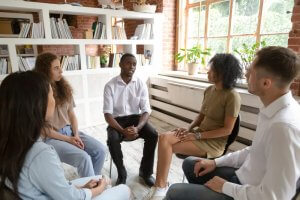 Can't I Just Go to AA? 
According to the National Institute on Drug Abuse (NIDA), 12-step and self-help programs are not a replacement for therapy. Rather, they are a way to complement professional treatment. AA also does not define itself as a treatment modality, meaning it's not intended to be your sole means of getting help. While many rehab facilities do use the tenets of AA in their treatment activities, AA itself does not comprise the full treatment regimen needed for effective rehab.
The great thing about AA is that it helps you turn yourself over to a higher power, learn to admit your mistakes, and work on changing your life. But it doesn't offer you the other principles of effective treatment, such as:
Medically assisted detoxification, which is the first step of treatment and can help you get through withdrawal safely.
Medication, which can help you wean off drugs or alcohol.
Assessment from an addiction professional, which is necessary to tailor your treatment plan to your needs.
Help with co-occurring disorders, like depression or anxiety.
Monitoring of drug use, which is necessary to ensure you don't relapse.
Behavioral therapy, where you build skills to resist drug use, work on problem-solving skills, and replace drug use with other, more rewarding activities.
You'll get all of these things and more in a rehab facility, which is why it's crucial to choose this over just AA or NA.
The Ideal Way to Use Alcoholics Anonymous and Rehab
That said, programs like AA and NA are an important part of the rehab process. They can help you come to terms with your addiction and work on righting the wrongs in your life. In particular, rehab centers often focus on the first 5 of the steps during your primary treatment. Then, once you're in an aftercare program, you can work through the rest. This means that while in rehab, you'll:
Admit you are powerless over alcohol or drugs.
Believe that a higher power can help you.
Turn yourself over to that higher power.
Take a moral inventory of yourself.
Admit your mistakes.
Generally, a 12-step session in rehab will act as a bridge between rehab and reentering the community. Once you leave the facility, you'll already have connections with the local AA or NA chapter in your area, making it easy to continue working toward recovery.
Can Alcoholics Anonymous Replace Rehab? No, But It Can Complement It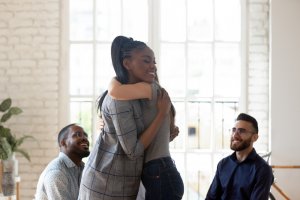 Choosing Alcoholics Anonymous instead of rehab may help you with your addiction, but your chances of staying sober are far greater if you choose to combine it with a full rehab program. That way, you'll get to take advantage of all the principles of effective treatment that we mentioned above, in addition to the helpfulness of 12-step programs. It's a winning combo that can help you make lasting change.