Dangers of Fentanyl: Are they Real?
If fentanyl was a houseguest, it has definitely worn out its welcome in the United States. It's a Schedule II prescription drug meant to manage pain after surgery or to treat individuals with severe pain. Additionally, it's a synthetic opioid, which happens to be 50-100 times more potent than morphine. The problem? Some individuals are not using it as intended, so the dangers of fentanyl can be real.
If you find yourself battling an opioid use disorder, you're not alone. This is impacting many people across the country. But there are resources and people available to help.
American Addiction Centers is the nationwide leader in addiction treatment. We offer medical detox, inpatient and outpatient care, as well as aftercare planning. With our licensed and professional medical staff, we provide a safe and comforting environment to help individuals reach long-term sobriety. If you're struggling, please reach out for the help you need.
Fentanyl Dangers… Myths… Truths
Fentanyl has been in the news a lot lately. One of the latest concerns that has public health officials on edge is fake prescription pills that the Illinois Poison Center representatives said may contain fentanyl. According to Carol DesLauriers,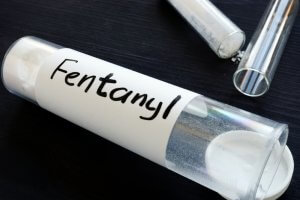 the assistant vice president of the Illinois Poison Center, "The illegal manufacturers of this drug deliberately make it look identical to a prescription opioid pill, including the imprint on the tablet." Individuals may consume this faux pill, believing it to be a specific dosage when it may be anything but.
The drug can be deadly in most cases, and at minimum, extremely dangerous at other times. Regardless of this, drug dealers will use it due to its easy accessibility and low price.
And even more recently, there was a story in the news involving the body cam attached to a police officer with footage that is at the center of a debate on whether or not an individual can overdose on fentanyl just by being in its presence. Please keep in mind, AAC isn't validating or negating the legitimacy of the story, but instead we are sharing both sides to differing views.
The San Diego sheriff's body cam video shows a deputy appearing to pass out after a superior officer informed him that the "drugs he had seized were 'super dangerous.'" Although this video went viral, scientific experts are doubtful that an individual can overdose in this manner. It was confirmed that the substance seized was indeed synthetic opioid fentanyl, and the San Diego County Sheriff's Department illustrated this as a way of just how potent this substance can be.
Is fentanyl potent? It is. It can be dangerous. And it can be deadly. However, it has not been scientifically or medically confirmed whether an individual can overdose on the drug just by being in its presence or touching it.
Medical Director for toxicology and addiction at University Hospitals in Cleveland, Ryan Marino, said, "We have a lot of scientific evidence and a good knowledge of chemical laws and the way that these drugs work that says this is impossible." You can read the full story here.
If you're struggling with a substance use disorder or may have even overdosed before, American Addiction Centers is here. There are resources available to help you get on the road to recovery and to live a healthy life one step at a time. Please reach out to get the help that you need.