The Threat of Relapse, Lockdown, and Isolation
Relapsing is challenging enough at any time and for anyone, but it's especially a challenge to relapse during the 2020 pandemic. While many have already been social distancing when they leave their homes and quarantining in their homes, a lockdown may feel like an added obstacle that separates us from each other and community.
Some may turn to substance use to cope, albeit an unhealthy option, with the current circumstances of fear, uncertainty, and isolation.
American singer-songwriter Miley Cyrus has opened up about her experience with dealing with quarantine and her relapse. She said, "… during the pandemic [she] fell off…" but has been sober for the last two weeks. That's what it takes; one day at a time. One of the mantras that Miley has used has been: "Don't get furious, get curious." In other words, instead of being angry at herself, she asked herself, "What happened?"
At American Addiction Centers (AAC), a nationwide leader in addiction treatment, we understand the needs of those battling a substance use disorder. Our licensed physicians and professional staff have the compassion and expertise to treat patients from medical detox, to treatment, and to help with aftercare planning. If you're battling a substance use disorder or have relapsed, please reach out for help.
Relapsing in Lockdown
With only California, New Mexico, and Ohio requiring stay-at-home orders or curfews at an attempt to get COVID under control and without citizens across the country following Thanksgiving holiday travel recommendations made by the Centers for Disease Control and Prevention, America may be dealing with COVID longer than any of us care to admit.
Not only is everyone susceptible to experiencing loneliness and isolation in their own way, inevitable conclusions that both quarantine and lockdown lead to for many, but this is also true of those in sobriety.
With the shelter-in-place orders, individuals recovering from substance use may face relapse issues.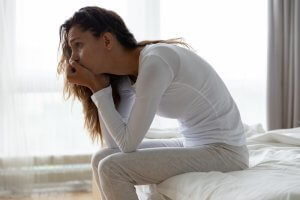 Boredom and self-isolation may trigger a relapse into drug or alcohol use.
Miley Cyrus admitted to breaking her sobriety and to drinking alcohol during this pandemic. She said because she isn't the type of person to drink within moderation, it's best for her to not drink at all. She also noted that through her own research, she discovered a family history with addiction and mental health challenges.
Relapse is going back to substance use after having not used drugs or alcohol for a certain time frame. Many individuals have one or more relapses along their road to recovery. Sobriety takes practice. If you do relapse, you should seek guidance and/or treatment immediately from a licensed physician whom you trust.
Additionally, remember, there are virtual support groups that can allow you to remain safe at home, but at the same time keep you connected with a community of people who understand and support you.
If you've relapse and are struggling with addiction, you're not alone. There are resources available to help you achieve long-term sobriety and to live a healthy and productive life during lockdown, the pandemic, and beyond. Don't let a battle with substance abuse hinder you. Please reach out to get the help that you need today.