Major Statistics Surrounding White-Collar Substance Abuse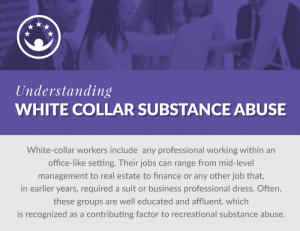 Both substance and alcohol abuse have long been an issue among every level of society and working professionals are no exception. Though their rates of addiction aren't as high as blue-collar workers, white-collar positions such as lawyers, bankers, doctors, and managers still find themselves struggling with these temptations.¹
The numbers related to depression and other mental disorders are often the most telling place to start when searching for the reasons why these individuals turn to white-collar substance abuse.
Depression Statistics
More than 16 million Americans over the age of 18 are considered depressed, nearly 8 million of which turn to drugs or alcohol for relief.² And white-collar substance abuse makes up a high percentage of these individuals.
A study that was recently conducted by the Center for Talent Innovation found that around 30% of the college-educated workforce has a disability, this may include mental health condition such as depression.³
Alcohol Addiction Statistics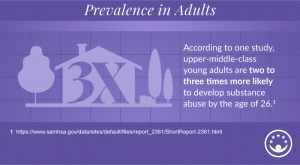 As these statistics are taken into consideration, it becomes quite obvious why so many of these individuals turn to substance abuse as means to combat their disorders.4
A close look at the numbers show that 21% of lawyers struggle with alcohol abuse, making the legal field one of the most prominent sources of addiction. White-collar substance abuse is also common in "C-Suite" management professionals such as CEOs, CFOs, and others, about 9% of which have issues with alcohol.
And while the distinction between white-collar and blue-collar workers in the medical field is a bit fuzzy, more than 4% of healthcare professionals consume heavy doses of alcohol.
Other working professionals such as real estate agents, IT workers, and people in finance range between 7%-9% when it comes to alcohol abuse.
Prescription & Illicit Drug Statistics
In recent years, more people have died from opioid-related overdoses than from automobile accidents, leading President Trump to declare the opioid epidemic a public health emergency in 2017. That same year, more than72,000 overdose deaths were reported, which was 10% higher than the year before.6
Prescription drug use has increased and many employers have seen negative impacts. Failed pre-employment drug screening has worsened the impact of the labor shortage for these employer.7
Illegal drugs have also become a major problem with substances like heroin frequently finding their way into white-collar workers' hands. Statistics show use by working professionals who make $50,000 or more per year has risen by more than 60% since 2002.8
White-Collar Substance Abuse Statistics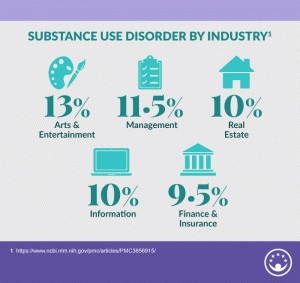 Substance abuse and addiction does not discriminate and impacts people of all socioeconomic classes.  The stress of competitive work environments and hectic working schedules lead many successful individuals and working professionals to struggle with addiction and substance abuse.  The prevalence of alcohol in office culture, when coupled with the stress of demanding jobs can lead quickly to alcoholism, making alcohol one of the most misused substances in corporate workers.  The wide use or abuse of stimulant drugs like Adderall can often serve as a gateway to narcotics like cocaine and heroin. In fact, upper- and middle-class young adults are two to three times more likely to develop substance abuse problems by the age of 26. Members of the c-suite, or CEOs/COOs, are also more susceptible to substance abuse, often due to the inherent personality traits common among these individuals. Traits like risk taking, a drive to succeed, obsession with success, and novelty and pleasure seeking are also commonly associated with addiction.9
Treatment for Substance Abuse in White-Collar Professionals
While many companies offer employees assistance programs for help with white-collar substance abuse, it is always recommended to seek professional help. This can include specialized treatment centers, rehab facilities, and other guided options.

Sources:
Alcohol.org. July 18, 2019. Alcoholism & Treatment Statistics by Profession.
Anxiety and Depression Association of America. About ADAA Facts & Statistics.
Center for Talent Innovation. October 12, 2017. A Talent Pool That Many Companies Neglect: Employees with Disabilities.
Bush, Donna M. Ph.D. and Lipari, Rachel N. Ph.D. April 16, 2015. SUBSTANCE USE AND SUBSTANCE USE DISORDER BY INDUSTRY.
Davies, Dave. August 21, 2018. Dispatches From A 'Dopesick' America.
Cutter, Chip. July 26, 2017. The opioid crisis is creating a fresh hell for America's employers.
CDC Vital Signs. July 7, 2015. Today's Heroin Epidemic.