Mirtazapine Side Effects & Uses in Addiction Treatment
What Is Mirtazapine?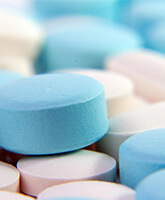 Mirtazapine – known in the U.S. under the brand names Remeron® or Remeron SolTab – is an antidepressant medication that works by balancing aspects of brain chemistry, including norepinephrine and serotonin. According to an article through the Stanford University of Medicine, the medication has also shown some capabilities in treating anxiety, obsessive-compulsive disorder, and panic disorder, among other psychological disorders.
Mirtazapine History & Uses
According to medication information through the Federal Drug Administration (FDA), Mirtazapine was developed by a company named Organon and approved by the FDA in 1996. Organon later came out with another version of the medication, Remeron SolTab, approved in 2001. In 2007, Organon was bought by Schering-Plough, which continued to market the medication. Mirtazapine is known under various other brand names in other countries; it is no longer under patent, which enables it to be distributed generically.
Mirtazapine is analogous to a medication not available in the U.S. called mianserin. Both medications act in the same way and are considered to be less dangerous in overdose than most other antidepressants.
The medication was originally intended for treating major depression, but has since been tested and investigated for a number of other uses, including:
Insomnia
Generalized and social anxiety
Obsessive-compulsive disorder
Appetite stimulation
Sleep apnea
Schizophrenia
These off-label uses include drug addiction treatment; mirtazapine has not yet been approved by the FDA for treatment of addiction disorders.

Mirtazapine Side Effects, Half-Life &Dosage
According to the drug information provided through Drugs.com, dosages of 15 milligrams (mg), 30 mg, and 45 mg are the most common, though higher doses have been given and there is a 7.5 mg tablet. The 15-45 mg tablets also come in an orally dissolving form. The dose is taken once daily, usually near bedtime due to the drug's relaxing effect. It can be taken with or without food.
Research shared through the National Institutes of Health shows that the half-life of the substance ranges between 20 and 40 hours. It begins to take effect quickly, and only needs to be taken once daily.
According to drug information published in the National Alliance on Mental Illness, commonly reported side effects include:
Sleepiness or sedation
Increased appetite and potential weight gain
Dizziness
Increased cholesterol/triglycerides
More serious side effects have occurred, including symptoms resulting from sudden withdrawal from the drug. Nevertheless, mirtazapine is considered to be safer than many other antidepressants, particularly in the case of overdose, as reported in a report in Pharmacotherapy. Like most antidepressants, it can be more dangerous if taken with alcohol or with certain other drugs, such as monoamine oxidase inhibitors (MAOIs), which are other types of antidepressants, such as rasagiline or phenelzine.