Addiction Talk Episode 37: Cameron Douglas
Subscribe to Get The Latest Addiction Talk Videos
Addiction Talk Details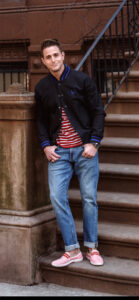 Sharing his story on this episode of "Addiction Talk" is actor and author Cameron Douglas, the son of actor Michael Douglas and grandson of the late Kirk Douglas.
To many, Cameron grew up in an ideal lifestyle of wealth and privilege, but from a young age, he dealt with feelings of loneliness and discomfort. It was the desire to quell these uncomfortable emotions that led him to substance use as a teenager.
By the time he was in in 20s, Cameron's substance use escalated resulting in erratic behavior that derailed his promising career as an actor and DJ and led to him being estranged from his family. He soon turned to dealing substances until 2009 when he was arrested for possession of methamphetamine.
Cameron spent nearly eight years in prison for possessing heroin and selling drugs with the intent to not squander an opportunity of a second chance upon his release.
In 2016, Cameron was released from prison, in recovery, and determined to reestablish himself. In 2019, he released his memoir, "Long Way Home," he is now the father of two children, and he will be returning to the screen in the upcoming film "Blood Knot" in which he will co-star alongside his father.
Ways to Get in Contact With Us
If you believe you or someone you love may be struggling with addiction, let us hear your story and help you determine a path to treatment.
There are a variety of confidential, free, and no obligation ways to get in contact with us to learn more about treatment.