Hispanic Heritage Month and Substance Abuse
Hispanic Heritage Month begins on September 15th and ends October 15th. It is the cultural and historical celebration of the contributions of American citizens whose ancestry can be traced back to Central and South America, Mexico, Spain, and the Caribbean. It started under President Lyndon Johnson as Hispanic Heritage Week in 1968. Twenty years later in 1988, President Ronald Reagan broadened it to cover a 30-day period.
Important Dates:
September 15th – Anniversary of independence for Costa Rica, Guatemala, Honduras, El Salvador, and Nicaragua.
September 16th – Day of independence for Mexico.
September 18th – Day of independence for Chile.
October 12th – Columbus Day (or Día de la Raza).
Opportunities to celebrate diversity bring to light our differences that we can appreciate and learn from, as well as the similarities that bring us together. Unfortunately, alcohol and substance abuse are challenges across all cultures and is one of our commonalities. However, the Hispanic community is plagued with a unique set of circumstances when it comes to substance abuse.
Alcohol and the Hispanic Community
One set of circumstances facing the Hispanic community is acculturation. Acculturation is the adaptation of behaviors, beliefs, and values of a new culture. Speaking English, receiving an American education, raising families, and working and living in the United States contribute to the adaptation of American culture. There is evidence to support the findings that as women get acculturated into an American lifestyle, they have a tendency to drink more.
Hence, the relationship between alcohol and the Hispanic community becomes clear. Data shows that although Hispanics are less likely to drink at all compared to their non-Hispanic White counterparts, when they do drink, they consume a higher volume of alcohol than do Whites.
Approximately 9.5% of Hispanics will struggle with alcohol dependency during the course of their lives, whereas 13.8 % of non-Hispanic Whites struggle with the same dependency. Furthermore, 33% of Hispanics with an alcohol dependency tend to have perpetual and reoccurring problems with alcohol consumption.
Co-Occurring Disorders & Substance Abuse within the Hispanic Community
Although substance abuse rates for Latinos reflect those of the general U.S. population, male and female Hispanics (Latinx) tend to get weaker results in treatment programs. However, the challenge with this conclusion is that there isn't data to support the reasons why these individuals experience problems in the programs. Studies on the efficacy of mutual help groups within the Hispanic population also tend to be few and far between.
A survey conducted by the Substance Abuse and Mental Health Services Administration (SAMHSA) states that binge drinking and alcohol dependency among Hispanics is similar to European Americans, but somewhat higher than those in the African American community.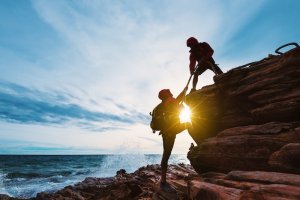 On the other hand, although early studies involving small samples discovered that co-occurring anxiety and mood disorders among both male and female Hispanics in the United States who abuse substances, mirror the rest of the population, it also indicates women and American born Hispanics (male and female) have a higher rate of co-morbid anxiety and mood disorders than their male counterparts and foreign-born Hispanics.

Celebrating Hispanic Heritage Month
Regardless if your background is of Hispanic ancestry or another, if you find yourself struggling with an alcohol use disorder, substance use disorder, and co-occurring disorders, you're not alone. American Addiction Centers (AAC) supports all cultures and provides nationwide treatment services to those in need of help. From medical detox, to residential and outpatient treatment, to aftercare direction, and many other services, AAC is available. If you find yourself battling an alcohol use disorder or a substance use disorder, reach out to one of our admissions navigators.