Keeping Fit, Healthy, and Sober this Winter
As we move into winter, medical experts predict that Covid-19 cases will spike in the upcoming months. People tend to congregate more indoors in the wintertime, and most regions in the U.S. are still experiencing rapid community spread of this novel coronavirus. However, despite this wintry mix of unfortunate news, the prospect of widespread vaccination in the spring is a reason for unbridled optimism. It's been a while since we've had good news, and an FDA-approved vaccine with 95% efficacy is really great news.
Although we're all struggling with quarantine fatigue, it's critical that we continue to be diligent for our own safety and the safety of others. So, although the weather may be frightful this winter, there are plenty of ways to stay fit, healthy, and sober during the upcoming months.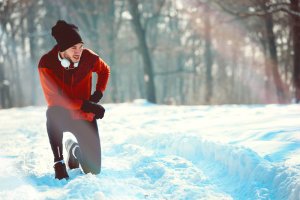 Set a Schedule and Maintain It  
From the onset of quarantine protocols, mental health experts have urged us to set and maintain schedules. Scheduling your day helps to maintain structure, alleviate stress, live intentionally, achieve goals, fight boredom, and boost self-confidence.
Setting a schedule to juggle new or different responsibilities is highly effective in preventing us from feeling overwhelmed. We're hardwired to crave some form of structure and stability. In these uncertain times, a daily or weekly routine can help keep us motivated and forward-looking. 
Sweat It Out  
Exercising may be one of the best methods for staying optimistic, sober, mentally healthy, and physically fit this winter. Multiple studies also indicate that exercise helps many people sustain their sobriety.
Exercising releases endorphins, or hormones that often contribute to a boost in mood. Endorphins help reduce stress, fight depression and anxiety, boost self-esteem, and reduce pain. Exercising also promotes better sleep. As gyms closed in 2020 to prevent viral spread, many are turning to outdoor activities for exercise. However, this winter, it may be necessary to adapt again – this time to the dropping temperatures. Fortunately, there are excellent ways to exercise in your home and sheltered from the cold. We suggest you:
Start an indoor yoga routine.
Incorporate bodyweight exercises into your indoor exercise routine.
Sign-up for online group fitness classes.
Follow an at-home fitness program.
Consider "exergaming," or using video games to exercise.
Most important of all, do something you enjoy! With so many online and at-home options, you're sure to discover a method that makes exercising a fun challenge rather than a necessary chore.
Take Advantage of Good Weather
The severity of this winter's weather will predominantly depend on where you live. However, most of us will experience some inviting days to get outdoors. As long as you're able to safely distance from others, taking advantage of mild days outdoors can help fend off the winter blues.
Incorporating a brisk walk or jog outside, a trek through a snowy park, or a midday bike ride in the sun will help to break the monotony. Time outdoors – even if you're bundled up – also means sunlight-derived vitamin D and fresh air for increased serotonin, a neurotransmitter responsible for mood.
Put on Your Chef's Hat
While it's tempting to order take-out, cooking at home can be fun and soothing! Many studies show that at-home cooks tend to eat healthier. Although there are exceptions, restaurant meals tend to be substantially higher in saturated fat, salt, and overall calories. Establishing an at-home cooking routine can help your physical and mental health. A few tips include:
Meal plan and cook with others in the household.
Choose theme nights with themed meals.
Go global and explore new flavors.
Take online cooking courses.
Practice your knife-cutting and flavor-profiling skills.
Study nutritional sciences and incorporate into meals.
Expand the kitchen. Add a pasta-maker or sushi-making kit.
Stay Hopeful & Practice Positivity
Although staying optimistic is sometimes easier said than done, positivity can be practiced and mastered. Try to manage your news consumption and make sure to surround yourself with positive (digital) influences. You can also try meditating, listening to positive affirmations, and simply taking adequate time to enjoy the hobbies you love.
If you're religious, find time for prayer and introspection. By addressing our mental, physical, and spiritual health, we're better equipped to sustain our recovery from substance abuse, regardless of the circumstances. While this winter will surely be challenging for many, it's important to remember that seasons always change.