How Pets Can Assist in Recovery
When it comes to recovery from addiction, having a pet isn't necessarily the first kind of treatment that comes to mind. But in fact, pets can be great companions to help build a routine, reduce stress, and keep you grounded while in recovery. Numerous studies have shown that pets are good for both mental and physical health, two areas of your life that need support if you're going to overcome addiction. Even the Center for Disease Control and Prevention extoll the virtues of pet ownership. Whether it's a dog, cat, bird, or hamster, having an animal to take care of can be a huge boon to the recovery process.
Keep in mind though, not everyone is able to take on the responsibility of owning a pet. It may be especially hard for people in the early stages of recovery. It's a huge commitment, and it's okay to not be ready. However, there are plenty of ways you can still receive the benefits of having a furry (or feathered) friend in your life such as volunteering at a local animal shelter.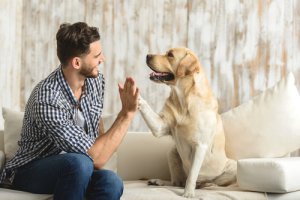 Pets Can Reduce Stress and Boost Your Mood
Studies have shown that pet owners are less likely to suffer from depression and anxiety. Studies also show that playing with a dog or cat can boost your mood through the release of two neurotransmitters associated with joy and pleasure, dopamine and serotonin. It's well established that suffering from mental health issues like depression and anxiety can trigger or exacerbate substance misuse. Many people struggling with substance use disorder (SUD) also suffer from co-occurring mental health issues, a phenomenon known as dual diagnosis. So, anything that can help alleviate mental health issues is likely to help in recovery.
Pets Can Encourage Exercise and Physical Health
This is especially true for dog owners. Having to leave your house three to four times per day to go on walks gives you an excuse to get moving. And some dog owners go even further get into heartier forms of play with their canine companions like running around or playing frisbee. There's good news for owners of other pets as well; studies have shown that pet owners of all kinds have lower triglyceride and cholesterol levels, both of which are indicators of heart disease.
Pets Can Help You Learn How to be Responsible
There's no question that owning a pet is a big responsibility. But that can actually be a huge benefit when fighting addiction. The responsibility necessary to take care of a pet can give you the kind of discipline needed to stay on track in recovery. Caring for another living being also helps you focus on someone other than yourself and it can be extremely rewarding.
Pets Can Help You Socialize
Isolation and loneliness are known to be associated with SUD. Fortunately, there are lots of ways that pets can facilitate interactions with others. For dog owners, going on walks with your pet not only gets you out of the house, but it can also attract some positive attention from other people while you're outside (who doesn't love giving a dog a good pet after all?). Additionally, owning a pet gives you something to talk about with other people. And all that is in addition to the companionship you gain just from having a pet in the first place.