Sober Summer & Alcohol Use Disorder
Independence Day, graduations, weddings, and backyard barbecues can be part of summertime fun. And usually what comes along with those experiences is a range of alcoholic beverages. If you have an alcohol use disorder and are currently sober,  attending events where alcohol is served may be triggering. And at the same, you don't want to miss out on the summertime festivities with family and friends. However, remaining sober in the summer is possible.
If you're struggling with an alcohol use disorder, there are resources to help. Support during an active addiction as well as during sobriety is equally important. American Addiction Centers (AAC) is a nationwide leader in addiction treatment and provides medical detox, inpatient and outpatient treatment, and aftercare planning. Please reach out to get the help that you need.
Alcohol Use Disorder, Sobriety & Tips
Alcohol use disorder is a medical condition that is considered a brain disorder. It's identified by a diminished ability to control or stop alcohol use, regardless of the negative occupational, social, or health consequences that may result from misuse. Additionally, there are varying degrees of the disorder, including mild, moderate, and severe.
This doesn't mean that you can't enjoy the summer with family and friends. This may mean that you need to be cautious with your environment, the people you spend time with, and to avoid triggering situations, all of which can lead to a relapse if they aren't conducive to your sobriety.
You want to surround yourself with those who are supportive and positive about your sobriety. And be honest with where you are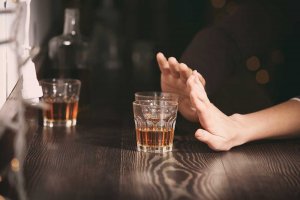 along your own recovery journey. Are you comfortable or indifferent being around people drinking alcohol when it is being consumed responsibly? Or does this trigger you? Only you can answer those questions.
Remember that maintaining recovery from an alcohol use disorder is an ongoing process. Processes can include setbacks. Understand that chronic relapsing can be what an individual experiences as part of this disease, but that doesn't mean they failed. People experience reoccurrences, learn from them, and keep moving forward.
Tips to maintaining sobriety during the summer months and beyond:
Seek professional help early that may prevent relapse. This can be your primary care physician, a counselor, psychologist, or any professional who can either help or direct you to someone who can.
Behavioral therapies can help individuals avoid/overcome triggers. Many behavioral therapies are utilized during treatment. The knowledge and skills learned while undergoing treatment is also meant to be applied afterwards and beyond. Some may be mindfulness-based therapies, reinforcement approaches, and treatments that teach skills to cope and prevent relapse.
Prescription medications may also deter alcohol consumption during periods of greater risk. Non-addictive medications such as disulfiram, naltrexone, and acamprosate are approved by the U.S. Food and Drug Administration and may help decrease or stop the compulsion to drink.
Attend a peer support group, such as Alcoholics Anonymous. Groups can offer peer support in decreasing alcohol consumption or stopping it altogether.
If you're battling alcohol misuse, you're not alone. AAC provides treatment in a safe environment. Our team of licensed medical professionals are compassionate and are here to help you along your road to recovery. If you're currently in a struggle with an active addiction, please reach out to get the help you need today.