Post-Traumatic Stress Disorder (PTSD) and Addiction: Signs, Symptoms, and Treatment
Those diagnosed with post-traumatic stress disorder are 3 times more likely to misuse substances.1 Treatment for substance use disorders with co-occurring mental health issues is available. Here, you can learn about your treatment options for PTSD co-occurring with substance use disorder.
What is Post-Traumatic Stress Disorder?
Post-traumatic stress disorder (PTSD) is an anxiety disorder that is caused by a traumatic experience in a person's life, such as military combat, sexual abuse, or car accidents.2 According to the National Center of PTSD about 8 out of 100 Americans will suffer from PTSD.3 Some may experience symptoms that include flashbacks of the traumatic event, fighting thoughts, and bad dreams.2
Signs of PTSD
Signs and symptoms of PTSD may include:4
Attitude and behavioral changes, such as easily irritated and angered.
Difficulty sleeping and concentrating.
Feeling numb and avoiding people, places, or activities.
Reliving the trauma, experiencing flashbacks, and having nightmares.
Substance Use and Co-occurring PTSD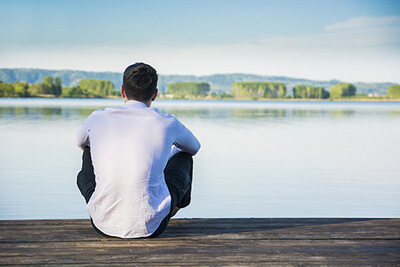 Substance use and addiction is commonly connected to co-occurring disorders like PTSD, depression, and anxiety.5
People seeking treatment for PTSD are 14 times more likely to also be diagnosed with a substance use disorder (SUD).6 Attempting to self-medicate can be a cause to why many people with PTSD also misuse substances.6 The thought is that by using substances, a person with PTSD, will null or avoid PTSD symptoms. Those with PTSD with a SUD are more likely so misuse alcohol over drugs.6
Research indicates that service members and Veterans, who have heavy drinking tendencies, are more likely to have PTSD and depression.7 War Veterans with a PTSD diagnosis, who also drink alcohol, tend to be diagnosed with binge drinking.8
Military and Veterans with PTSD
One of the highest risk groups for both PTSD and addiction is the Veteran population. According to the U.S. Department of Veteran Affairs, Veterans who seek out treatment for a SUD are often diagnosed with PTSD.10 This is most likely due to the emotional stress, physical demand, and mental strain of combat.10 Service members that were deployed overseas to Iraq and Afghanistan are at a higher risk of developing PTSD.11
In addition, PTSD has also been linked to Veterans that have been sexually assaulted or harassed during their military service or experience. Military service trauma can happen to any service member, of any gender, during their military service.11 Sexual trauma includes sexual assault, sexual abuse, or sexual harassment.11 About 1 in 5 female Veterans have been diagnosed with military sexual trauma by Veteran Affairs (VA).12
Treatment for PTSD and Addiction
If you or someone you love struggle with PTSD and addiction, treatment is available. It's important to find a rehab facility and program that treats the substance use and mental health disorder—PTSD in this case—simultaneously. Some of the evidence-based interventions that may be utilized during treatment include:
Trauma-informed care.
Medications.
Reach out to American Addiction Centers (AAC) at . We have a specialized program for Veterans and also treat co-occurring mental health disorders like PTSD. One of our knowledgeable admissions navigators can listen to your story, answer your questions, explain your options, and get you on the healing path to recovery from PTSD and addiction.