Humana Military is In-Network with AAC
Humana Military Insurance for Drug & Alcohol Rehab
Yes. Humana Military covers drug and alcohol rehab.
American Addiction Centers (AAC) aims to provide you with the most current and updated information on addiction insurance coverage.
* These fields are required

Does Humana Military Cover Rehab Treatment?
Humana Military insurance may be able to cover all or at least part of the cost of rehab and associated therapies. This depends on your plan details and the level of care you need. Humana Military administers TRICARE, which is in-network with several American Addiction Centers' facilities, including Recovery First Treatment Center in Hollywood, Florida; AdCare Rhode Island, which operates at numerous locations in the state; and Desert Hope Treatment Center in Las Vegas. TRICARE may be able to cover substance use disorder treatments, including (but not limited to):1
Inpatient services (emergency and non-emergency).
Intensive outpatient programs.
Detoxification to manage withdrawal symptoms.
Medication for addiction treatment.
Behavioral health therapeutic services.
Office-based opioid treatment.
Opioid treatment programs.
Partial hospitalization programs.
Residential treatment.
TRICARE does not cover aversion therapy or unproven treatments.
Find Treatment Centers Near You
About Humana Military
Humana Military is a subsidiary of Humana Inc., that partners with the Department of Defense to administer TRICARE to military members, retirees, and their families.2,3 Humana Military currently serves more than 6 million beneficiaries and is responsible for the TRICARE East Region which consists of 32 states.2,3
Insurance Coverage Survey
Rehabs That May Accept Humana Military Insurance
American Addiction Centers (AAC) owns and operates facilities at various locations nationwide to provide you or your loved one addiction and mental health care.
About The Contributor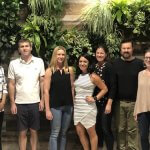 The editorial staff of American Addiction Centers is made up of credentialed clinical reviewers with hands-on experience in or expert knowledge of ad … Read More
---