Partying Sober — Party Punch Contest Winners
January 25, 2017
The Big Game is known as one of the heaviest drinking days of the year. For those in recovery, who've committed to a life of sobriety, it can be a challenging time. It is the reason American Addiction Centers (AAC), the nation's first publicly traded company solely dedicated to addiction, is supporting a sober movement this year.
"I think it's almost a stigma in this country that in order to have a good time, you have to be under the influence and that is just not true," said Nicole Vasquez, National Alumni Manager, American Addiction Centers. "That is why our alumni team exists because it is so important, particularly for young people who get sober, to know you don't need substances to have fun in recovery. We put on events nationwide and meetings to get them acclimated to this lifestyle."
The winners of the "Big Game Party Punch Contest" can be seen in the video below, where we've made the top 4 delicious recipes! Click here to see a recipe breakdown of each punch.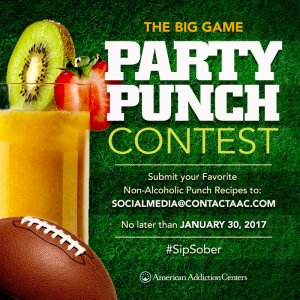 The top recipes, chosen by American Addiction Centers staff, are featured in a cooking video on AAC's YouTube Channel and promoted on the company's Facebook and Twitter pages, reaching more than 34,000 followers.
American Addiction Centers is also encouraging people to throw their own sober parties and share those photos on social media with the hashtag #SipSober.
"Sometimes it's not always comfortable to be around alcohol, so it's nice to have an environment you can go to and not even worry about it being there," said Vasquez. "We are encouraging our alumni to attend sober parties and the public to support."