Does Health Insurance Cover Alcohol or Drug Addiction Rehab?
Does Your Health Insurance Cover Substance Abuse Treatment?
What Drug Addictions Are Covered by Insurance?
What Types of Rehab Centers Are Covered?
What Mental Health Issues Are Covered by Insurance?
Are Treatment Medications Covered?
Using Insurance
Verify Your Insurance
Does Your Health Insurance Cover Substance Abuse Treatment?
Health insurance plans will cover treatment for substance abuse, addiction and mental health disorders. With the passage of the Affordable Care Act, more Americans now have access to these forms of treatment. Plans can vary in terms of what type of insurance coverage they provide or how long they will cover alcohol or drug rehab, so it's best to check with your provider or the treatment center you're interested in attending.
What type of addiction treatment programs are covered?
Close to 91% of Americans had health insurance in 2014. Depending on the plan specifics, those with insurance can use that coverage for: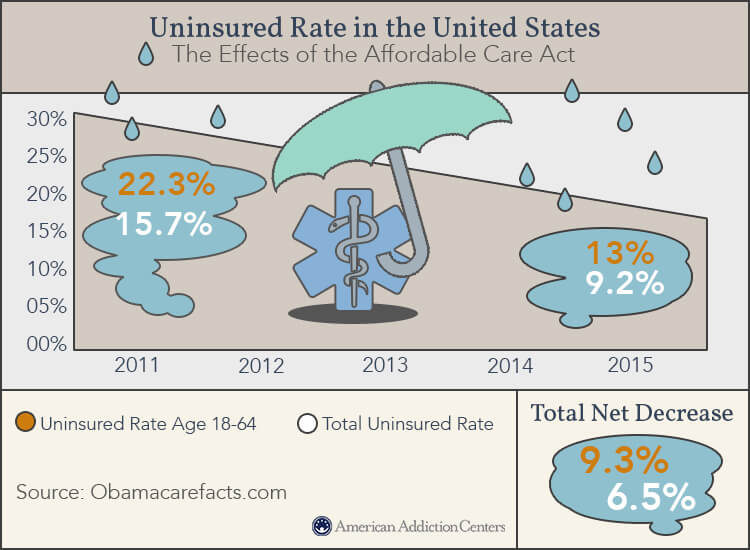 Health insurance was once considered a bit of a luxury. People with tight budgets and low-paying jobs may not have had the extra cash they needed in order to buy expensive health care plans, so they tried to save up enough money to allow them to get care for problems deemed life-threatening. Anything else went unaddressed. Often, that meant addictions went untreated. For people without health insurance, getting medical care for addiction was just too expensive to consider.
Much of that changed with the passage of the Affordable Care Act. Now more people than ever before have health insurance. In fact, according to the Kaiser Family Foundation, only 13% of Americans didn't have health insurance in 2014. Everyone else had the coverage they needed to deal with health problems. Those plans typically include coverage for mental illnesses and addictions, although there are limits and specifications to pay attention to in order for families to get the real benefits they need at the right time.
The two most common healthcare plans are HMO and PPO. Substance abuse treatment and recovery may be covered by your insurance provider. Learn more about which plan, HMO or PPO, offers the best coverage:
HMO (Health Maintenance Organization) plans allow patients to choose their primary care physician and see that doctor for most of their medical needs. This allows them to form a relationship with a doctor who knows their whole health history. When seeking a specialist or physician outside of the network, a referral is needed by your primary care physician.1 HMOs have lower or no deductibles and overall coverage is usually a lower cost than PPO.2 Pros of HMO coverage are for those that are not seeking a specialist and healthcare providers out of their network and paying lower premiums.2
PPO (Preferred Provider Organization) plans allow patients to see healthcare providers in and out of their network without referrals.3 PPOs can have higher deductibles than those with an HMO plan.2 One of the pros of PPO coverage is having the option see specialists and other healthcare providers outside of your network without a referral from your primary care physician.2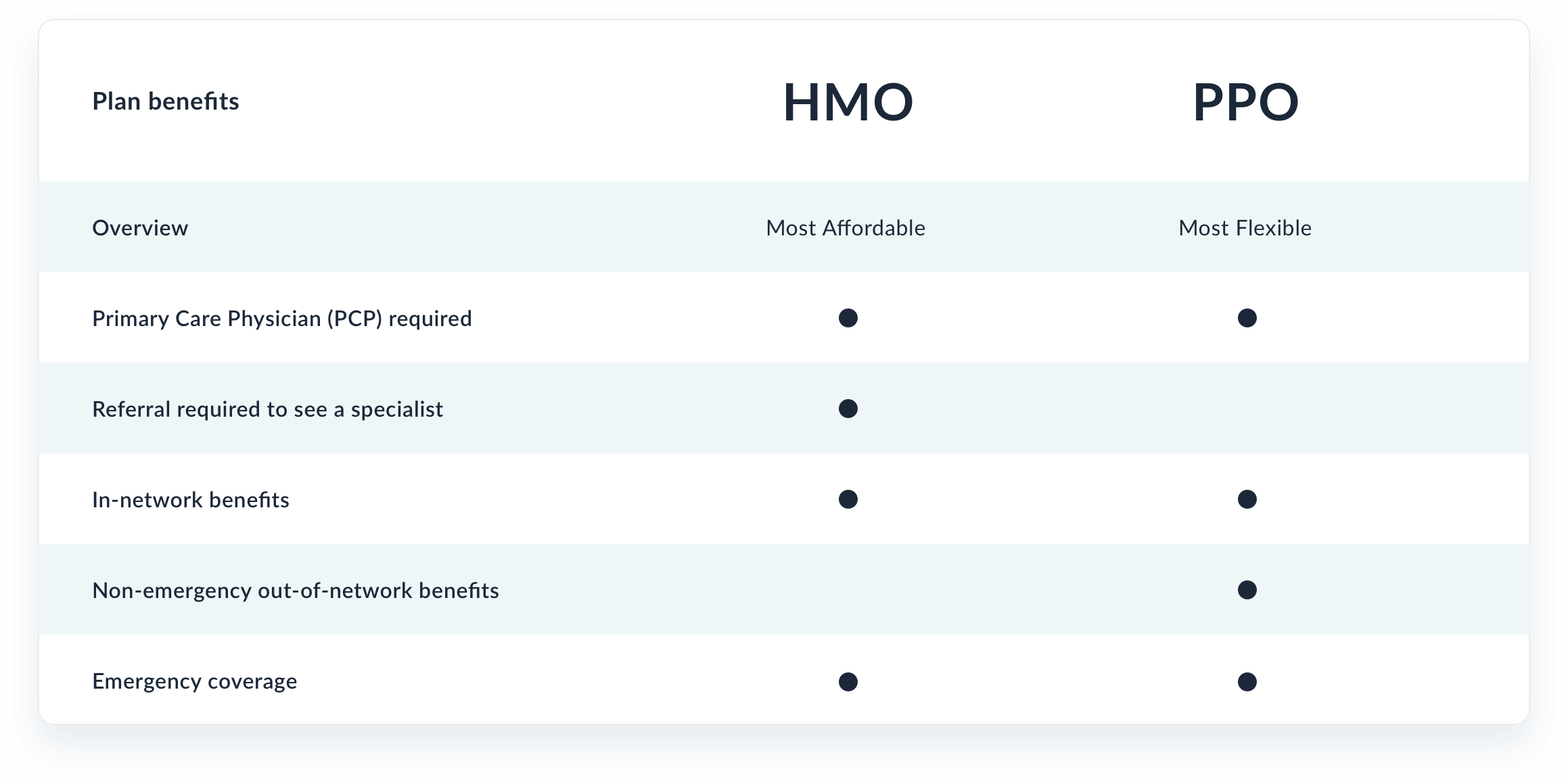 What Drug Addictions Are Covered by Insurance?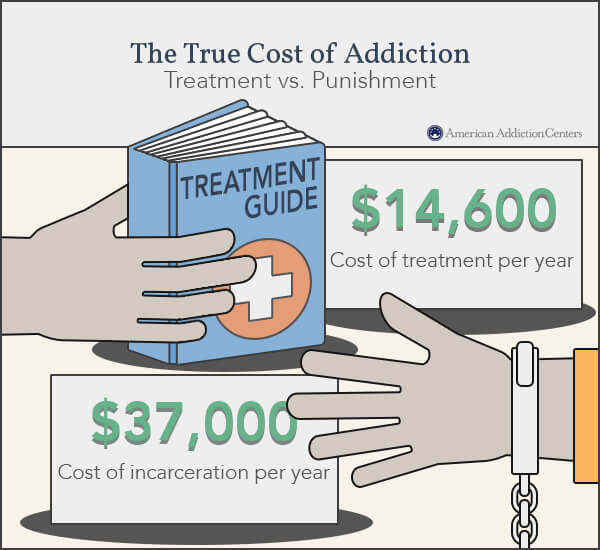 HealthCare.gov reports that plans participating in the insurance marketplace must provide care in 10 essential health categories, one of those being addiction care. Many private health insurance plans follow these same rules, too, so they could be sold on the marketplace at a later point in time. Most insurance policies don't separate drugs into "covered" and "non-covered" categories. If addiction treatments are considered a covered benefit, then care is provided to anyone who has an addiction, regardless of what that addiction is caused by. This is the same model health insurance programs use in order to treat other medical conditions.
For example, some people develop obesity through overeating, while others develop weight difficulties due to hormonal or gland abnormalities. Health insurance programs that provide a weight-loss benefit don't cover one type of weight loss while eliminating the other. Doing so would make the plans much more expensive, as underwriters would need to delve deep into the medical history of each person needing care, and the plans would need to cover sophisticated tests in order to determine how the obesity came about. By just covering all obesity treatment, the plan can save money.
The same is true for addictions. Plan administrators don't want to cover in-depth testing and interviews about what drugs were used, how the drugs were developed, where they came from, and what they're mixed with. Plans can keep things simple by covering all drugs, if they provide an addiction care benefit.
Covering addiction care can also help states to keep costs down. For example, a PBS report suggests that incarcerating an adult for one year can cost up to $37,000, while providing residential care for addiction costs just $14,600. State-run plans might very well provide robust addiction care for all drugs simply because doing so could keep other costs in line. Private plans might see benefits if addicted people don't land in expensive emergency rooms due to addictions or overdoses. By providing care for addictions, they might also reduce the number of organ transplants they might need to cover. When it comes to savings, robust care for all drugs might be the best way to go, and many insurance plans do just that.
That means anyone with questions about what drugs are and aren't covered by insurance can just look at this page and get clear answers in just minutes. That page is a good first stop for anyone with addiction treatment questions.
What Types of Rehab Centers Are Covered?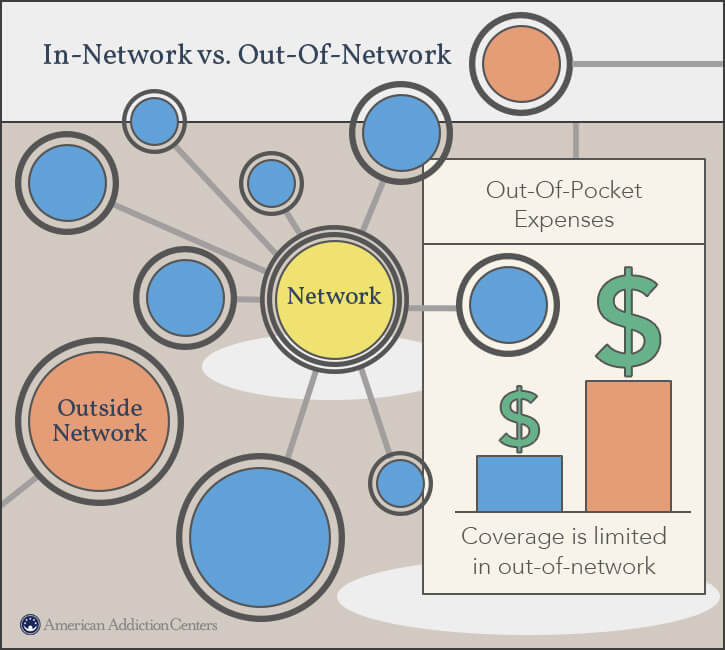 A summary sheet might help families and loved ones to understand what sorts of drugs are and aren't covered, but it might not provide the full scope of addiction care that families need to understand before they enroll. For example, that sheet may not provide details on the facility names of treatment providers and characteristics families can use.
The National Institute on Drug Abuse reports that there are more than 14,500 specialized treatment facilities for drug addiction in the United States alone. Even though a health plan might provide coverage for addiction, not every facility may be covered by the plan.
Some insurance programs have special agreements with providers of vital services. With these agreements in place, the providers agree to offer a specific type of care at a specific price, and in return, the insurance plan agrees to provide referrals to that facility. Mental Health America suggests that people in plans like this can ask their doctors for the names of facilities or professionals that the insurance provider considers a network provider, but many facilities that specialize in addiction are happy to handle questions about coverage. A quick call to a provider might be all that's needed for families to answer this question. In addition to concerns about network coverage, there are issues concerning addiction care types.
Addiction treatment facilities can provide a number of different types of care, including:
Inpatient Detox
Outpatient Detox
Partial Hospitalization
Residential Rehab
Outpatient Rehab
Some plans provide coverage for every single type of approach on this list. KPCC in California suggests, for example, that Medi-Cal provides care for inpatient detox, residential treatment services, and outpatient counseling. That's the full spectrum of addiction care, all under one plan. But some programs offer payments for just one type of care, and they might limit the amount of time that someone can access that care.
This is a great question to ask the administrator of the health plan, or families can ask the intake coordinator of an addiction facility to do that research on their behalf.
What Mental Health Issues Are Covered by Insurance?
The legislation passed as part of the Affordable Care Act didn't stop with addiction care. Plans were also required, as part of the legislation, to provide the same level of care for mental health concerns that they do for physical health concerns. That means plans that provide doctor visits for a foot problem for $20 must also provide doctor visits for depression for $20. The care, and the cost, must be the same. The American Psychological Association says these parity laws apply to all sorts of programs, including those provided by employers, those coming through health care exchanges, and those coming through Medicaid and CHIP.
Parity laws don't explicitly state what sorts of mental health conditions plans must provide care for, but the rules are similar to those seen in drug addiction. If plans provide care for mental illness, they typically don't specify that some illnesses are covered while others are not. That would require a huge amount of paperwork and time, and most plan administrators don't have much of either of those things to spare, so the plans simply cover all of it. Again, this is an issue that's best discussed with a plan administrator. But in general, fears that mental health issues won't be covered because they're "bad" are typically groundless. Health insurance just doesn't work that way.
Plans were also required, as part of the legislation, to provide the same level of care for mental health concerns that they do for physical health concerns.
Are Treatment Medications Covered?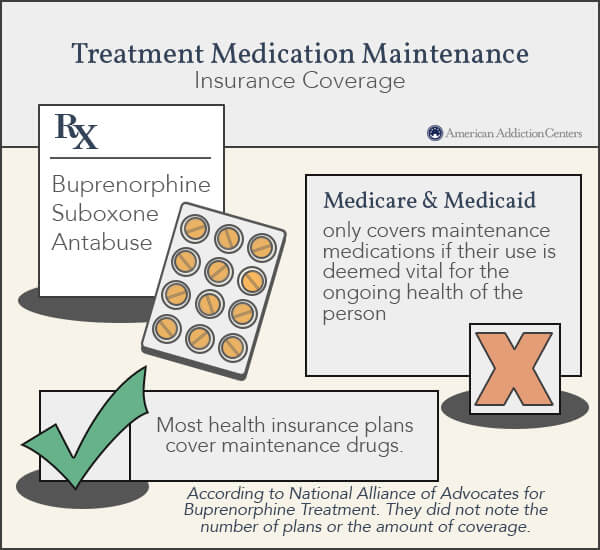 Maintenance programs, part of aftercare treatment, are designed for people who can't get to a normal level of functioning in the absence of drugs, even if they've been through a rehab program at a treatment center. Chemical alterations caused by drugs are just too severe in these people, and they need medications in order to correct those imbalances so they can live a life that's free of the influence of drugs.
Maintenance treatment helps many people in recovery from certain substance use disorders, often long after the initial rehabilitation stay. For instance, opioid maintenance therapy on an opioid agonist medication like methadone or buprenorphine can help prevent withdrawal, minimize cravings and, over the longer-term, help to discourage relapse and allow that person to focus on sobriety and other day-to-day obligations.
Maintenance medications like Suboxone, buprenorphine, and Antabuse are made for people with these sorts of issues, but they can be expensive. Thankfully, most experts suggest that insurance plans typically do cover these drugs.
The National Alliance of Advocates for Buprenorphine Treatment says, for example, that most health insurance plans cover maintenance drugs for people in recovery from addictions to heroin and other similar drugs. The organization doesn't specify how many plans offer this coverage or what typical copayments might be, but the group seems confident that most plans do provide this benefit.
The Substance Abuse and Mental Health Service Administration says, on the other hand, that Medicare and Medicaid plans will only cover these medications if their use is deemed vital for the ongoing health of the person in recovery. If the person is deemed somehow capable of healing without the medications, coverage wouldn't be provided under these plans. These two opposing views make it clear that plans can handle addiction maintenance care very differently. That's why it pays for families in need of this care to ask about coverage, copayments, and therapies before they start to get them. Some programs may have extensive coverage while others do not.
More Topics on Paying for Treatment
Using Insurance
Health insurance benefits are designed to make health care both affordable and accessible, and there's no stigma attached to asking for help. People with addictions and insurance should use their coverage to the fullest in order to get the care they need to leave addictions behind for good. Talking to plan administrators is a great place to start, but remember that the staff of addiction treatment facilities can also be of vital help.
In some cases, they can smooth the path to payment, so families have one less thing to worry over as they recover.
Useful Health Insurance Resources
Verify Your Insurance
Source
Masterson, L. (2019, October 23). Insurance.com, What is the difference between HMO, PPO, HDHP, POS, EPO?
(2018, March 23). HMO vs PPO for Individual Health Insurance.
eHealth Medicare. (n.d.). What are the differences between Medicare HMOs and PPOs?
Last Updated on April 19, 2021
Start your recovery today.
American Addiction Centers can help you get the care you deserve.